17 Extremely Tasty, Satisfying High-Protein Snacks for When You're On the Go
Some things come as a bit of a shock when you start a lifting program in the gym. The first is you are immediately and forever smaller than you want to be; the second is that you are hungry all the damn time, which may account for the first.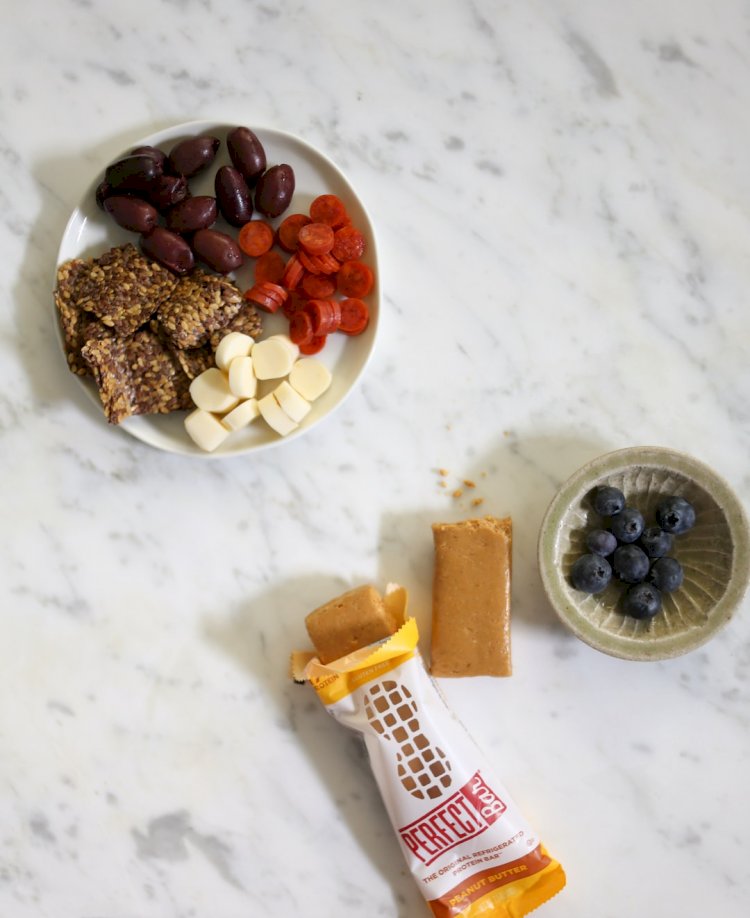 Despite our most meaningful relationship being with the weights we sweat over six times a week, sometimes we've got to do a spot of kissing. Wait, what? Yes, you read that right! We are beasts-in-training, and this means snacks are to us as kissing is to the mating ritual. They never really fill you up, but they can tide you over until you can get to the main event. So here are some of the best protein-rich snacks that will help you to curb those hunger pangs when you're on the go.
1. Jerky
It's meat. High in protein, these are great snacks to throw in a bag or car, as they keep fresh for long periods when stored correctly. Go low sodium and low sugar for healthy options. You can get beef, chicken, turkey, fish, and there are even meat-free vegan options. We truly live in amazing times!
2. Canned Tuna
Yes, it's got the taste (damn you Dom Mazzetti), but there's much to recommend it as a perfect snack, like 12g of protein in a 3oz serving. Plus, it's cheap and versatile. Wrap it in lettuce with some tomatoes and peppers, or eat with whole wheat crackers or bread for a more filling snack pre or post-workout.
3. Greek Yogurt
During the manufacturing process of Greek yogurt, the milk is concentrated and the whey removed to leave a thicker, low-carb, protein-rich product. Add chopped nuts, seeds, fruit or granola to make a more filling snack.
4. Smoothies
So, you're out of protein powder or maybe you just don't like the taste; whatevs! Luckily, you're not out of options. Add banana, nuts or nut butter to milk to come up with a tasty protein-rich snack you can enjoy on the go.
6. Seeds
Pumpkin, squash, sesame, sunflower, flax and chia seeds range from 16g to 29g of protein per 100g. Buy natural, uncoated, seeds to keep these nutrient-rich snacks healthy and keep portion sizes under control. One ounce of mixed seeds will provide roughly 150 calories.
7. Nuts
Nuts are an excellent way to get protein and good quality fats into your diet but only if you choose the unprocessed and unsalted variety. Peanuts, almonds, and pistachios all contain over 20g of protein per 100g. Make your own combinations using one tbsp. of each type of nuts and add dried fruit or dark cacao nibs for a sweet yet healthy mid-afternoon treat. Keep serving sizes controlled by storing in a handy Tupperware so you don't overeat. 1.5 oz. or 1/3 of a cup of mixed nuts is about 258 calories.
8. Cheese
Remember when you were little and you got those cheese boxes? Upgrade by making your own healthy but still cool AF version. My favorite is a serving of cottage cheese with a drizzle of Thai sweet chili sauce and flaxseed crackers. A serving of your favorite cheese, (mozzarella, Swiss, goat's cheese and cheddar have some of the highest protein contents after cottage cheese), with a serving of nuts or grapes and some whole wheat crackers will quench any hangry pangs in a hurry.
9. Protein shakes
There's always going to be times when nothing will beat a mouthful of protein-filled liquid. This is the time when there's no shame in reaching for the stash of powder and whipping up a shake to have on the go. These days you can get many different types including gluten-free and plant-based protein powders.
10. Nut butters
You can go ol' skool and rock it (natural no added sugar) peanut butter and (fruit juice sweetened) jelly on whole-grain bread, or you can go low carb and stick that nut butter on apples or celery.
11. Cold Meats
Go for low-sodium cuts of deli meat like turkey, chicken or ham, place cheese, tomato or anything you fancy inside and roll.
Hummus
No longer just for the preppy and Gwyneth Paltrow's goopy followers, this is an easy snack for work. Pop into a container alongside some vegetable sticks, carrots, celery, and edamame pea pods will fill you up until you get to your next meal.
12. Cheesy Kale Chips
While all your friends are chowing down on belly-bloating potato chips, you can rightly feel smug with your homemade kale chips. Strip the leaves off the thick stalks of one bunch of kale, coat with one tbsp. olive oil and two tbsp. nutritional yeast (which will give the kale it's cheesy taste) and bake at 325 for 15 minutes. Of course, if you're a true gym rat, you'll be eating these alone in a break room at work whilst simultaneously trying to check out yourself flexing in the microwave door.
13. Toasted Quinoa
You don't need to be a master chef to knock out a heavenly tasting snack. Mix 1/3 cup of quinoa, one tbsp. of shredded coconut, ½ tbsp. of ground flax and one tbsp. of maple syrup, toast for 10 minutes at 425 then try not to eat in one sitting.
14. Bean-and-Cheese Quesadilla
They're so good even Nickleback (remember them) sang about eating them in "Rockstar." Granted, he was getting them for free, but if you want to snack like a rockstar, warm corn or whole wheat tortilla in a dry non-stick pan. Add ½ cup of black beans, one slice of cheddar cheese, one tbsp. of salsa and heat until cheese has melted then wrap and pack.
15. Protein Bites
Mix nut butter, honey, oats, and dark chocolate chips and shape into balls ready for eating. Easy to make and easier to consume, take care not to eat too many in one sitting.
16. Roasted chickpeas
Make these up in a big batch so it's easy to pop some in a handy container for when you're on the go. Place one cup of chickpeas on a baking tray and coat with one tbsp. of olive oil and season to taste, using salt and pepper, garlic, cayenne pepper or paprika.
17. Healthy puppy chow
For those who occasionally want to fool family and friends into believing we're not secretly judging them for their shit diets and we're just like them, try this combination. ¾ cup original Chex cereal coated with a melted mixture of ½ tbsp. honey, 1½ tbsp. peanut butter, 1½ tbsp. dark chocolate chips and dusted with ½ tbsp. vanilla protein power will deliver 10g of protein and the smugness that comes with knowing we're pretty much better than everyone!
Source: spotmegirl.com
What's Your Reaction?