6 Healthy Recipes to Satisfy Your Cravings
Everyone gets cravings. It happens to the best of us. The important thing is how we manage them, so this article helps you understand how. Grab a donut (just kidding!), and read on. These ways to manage cravings can help you reach your fitness goals. And, they can make you a happier person. And don't worry, you'll make it!  No, really. You'll be making High Protein Cookie Dough Energy Bars, Guilt-Free Protein Powder Brownie Bites, a Sweet Potato Breakfast Boat, Protein Dessert Pizza, Tropical Overnight Oats, and Baked Onion Rings, and Post-Workout Multi-Color Ice Pops. All, fantastic tastes!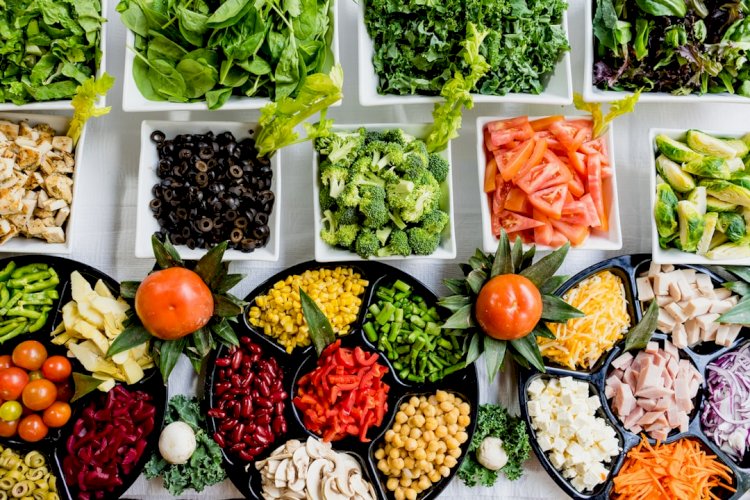 Recipe: High Protein Cookie Dough Energy Bars
These cookie dough batter high-energy protein bars will satisfy your sweet tooth.
Make them ahead of time and prep them for your daily trip to the gym for a pre, during, or post-workout snack!
Ingredients
¼ cup(s)

vanilla whey protein powder

2 tbsp natural peanut butter

1 tsp agave syrup

2 tsp water

1 square dark chocolate

½ tbsp coconut flour
Instructions
Using a spatula, mix all of the above ingredients together except for the water.

Add the water, one teaspoon at a time, until you get a doughy mix. Shape that into four small rectangles. If you batter is too sticky, add a bit more coconut flour. If it's too dry, add water.

Once you've shaped your bars, leave them to set in the fridge for a couple of hours. Enjoy your no-bake success.
Recipe: Guilt-Free Protein Powder Brownie Bites
Ingredients
Instructions
Preheat the oven to 350F/180C.

Grease each muffin tin and each holder with a mini muffin liner.

Combine all your ingredients and blend or mix until smooth. If you mix by hand, you may have some banana chunks throughout.

Fill each muffin tin with brownie mixture. Keep in mind that they probably won't rise during baking.

Bake for 12-15 minutes, or until a toothpick comes out clean. Protein Brownie Bites have no eggs, so for ultra-fudgy brownies, remove from the oven a little earlier.

Allow muffins to cool in the tin completely before removing them.

For best results, refrigerate once cooled for several hours. You can refrigerate and freeze these brownie bites.
Learn more ways to make this recipe here: Guilt-Free Protein Powder Brownie Bites Recipe.
Recipe: Sweet Potato Breakfast Boat
Using your fork, pierce a few holes in your sweet potato. Then, microwave it on high until soft, which usually takes about 5 minutes. Turn potato over at the halfway mark. If the sweet potato is still hard, continue cooking in 1-minute increments until the desired consistency.
Let it cool. Then, cut the potato in half. Scoop out 3/4 of the inside and mash with 1/4 tsp of cinnamon and 1/4 tsp powdered ginger. Then replace it in the sweet potato skin.
Top with 1 tbsp natural almond butter, ½ cup blueberries, 1 cup nonfat plain Greek yogurt, and ⅓ cup low-sugar granola. Sprinkle ½ tsp of orange zest over the top for the finishing touch.
Pair this meal with a protein shake to pack a punch.
To find more savory breakfast recipes, check out the 8 Easy-to-Make High-Protein Bodybuilding Breakfast Ideas.
Recipe: Protein Dessert Pizza
Don't feel like you can't have any dessert while you're working out.
Cream cheese and raspberry frosting with an oatmeal crust. This protein packed dessert pizza, cut into 8 slices, provides 25 grams of protein per slice.
For the full recipe and instructions to make it, then visit https://biotest.t-nation.com/articles/md-recipe-dessert-pizza.
Recipe: Tropical Overnight Oats - https://gatsport.com/blogs/gat-train/tropical-overnight-oats
Recipe: Baked Onion Rings
Looking for a crunchy, savory snack? Try these healthy baked onion rings!
Recipe: Adenoflex Post-Workout Multi-Color Ice Pops
Ingredients
Instructions
Mix 2 Servings of GAT SPORT Adenoflex, Blue Raspberry Flavor with 2 cups of cold water

Mix 2 Servings of GAT SPORT Adenoflex, Melonberry Flavor with 2 cups of cold water

Pour Adenoflex, Blue Raspberry flavor into popsicle molds until the mold is 1/2 full. Place in freezer until solid (approx. 1 hour).

Remove from freezer, remove mold top and pour Adenoflex, Melonberry flavor mixture into mold until full.

Place cover back on mold and refreeze for approximately 50 minutes.

Remove each pop individually when ready to eat.
Reach your goals quicker without worrying about falling off the bandwagon thanks to these 6 healthy recipes to satisfy your cravings.
What's Your Reaction?