The #1 Breakfast, Dietitians Want You to Eat More Often
You know a balanced, nutritious breakfast helps you feel sharp, strong and satisfied all morning long. But with trends like keto and intermittent fasting calling the (arguably) most important meal of the day into question, it's hard to know what to eat — or whether you even should eat — after you wake up.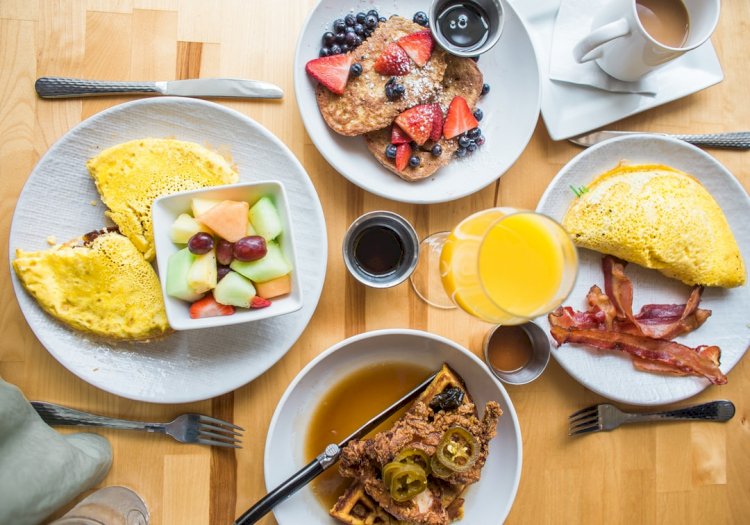 Regardless of what eating style you prefer and what your individual health goals look like, there is one classic, often-overlooked breakfast deserving of your mornings: Oatmeal.
Whole-grain oats (whether rolled or steel-cut) make for a totally nutritious, versatile breakfast. If you're not sold on the gooey, cozy grain, the following dietitian-backed perks will make you a believer.
1. Oatmeal Provides Fiber — Including a Special Type Called Beta-Glucan
One cup of cooked oats (the standard serving size), provides 4 grams of fiber, which is about 16 percent of your daily value of the nutrient, according to the USDA. "A high fiber intake has been associated with cholesterol, blood sugar and healthy digestion and a decreased risk for various chronic conditions and types of cancers," says Alex Lewis, RD, a dietitian for Baze personalized supplements.
Oatmeal, in particular, contains a specific type of soluble fiber called beta-glucan. "This soluble fiber dissolves in water and bulks up to form a gel-like substance," Lewis explains. This type of indigestible fiber attaches to fats and bile components in the bowel, helping to remove cholesterol from the body, according to a January 2018 review in the International Journal of Molecular Medicine.
Because of this effect, soluble fibers like beta-glucan can help the body manage cholesterol. (Psst, the reason Cheerios advertises itself as "heart-healthy" is because it's made of oats!) Plus, since beta-glucans are indigestible, they move slowly through the digestive tract, which helps keep you full for longer.
What's more, a December 2015 meta-analysis published in Nutrients shows that eating oats supports healthier blood sugar and cholesterol in people with type 2 diabetes. And beta-glucans were found to decrease glucose levels in people with type 1 or type 2 diabetes, per a Brazilian review in the journal Nutrición Hospitalaria.
2. It's Weight-Loss Friendly
"Although certain medical conditions may require people to consume fewer carbohydrates, I still very much believe that oatmeal can be a healthy part of any eating plan if done right," says Lewis.
At about 166 calories per one cup of cooked oats, "oatmeal really isn't that high in calories," says Pamela Nisevich Bede, RD, CSSD, author of Sweat. Eat. Repeat.: The 90-Day Playbook to Change Your Food Habits, Improve Your Energy, and Reach Your Goals.
"Although you have to pay attention to portion control (just like you would with any other food), I would so much rather see my clients have some carbs from oatmeal than refined grains, like white flour."
Start with one serving of oats and add toppings like flaxseed, chia seeds, walnuts, mixed berries and some protein powder, suggests Bede. "Yes, these things have calories, but the fiber, phytonutrients and other nutrients in them are so important — and filling," she says.
Another potential perk of oatmeal for anyone looking to manage their weight: The beta-glucans in oats can promote satiety and increase appetite control for hours, according to one small study published in Nutrition Journal. That's a major plus if snacking tends to be your weight-loss undoing.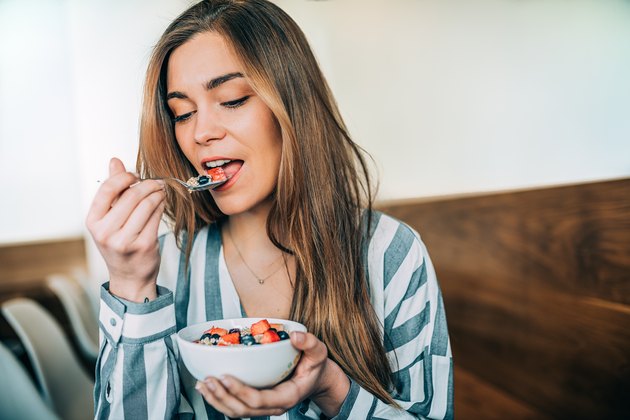 Oats provide complex carbs to keep you energized all morning.
Credit: David-Prado/iStock/GettyImages
3. Oatmeal Isn't as High in Carbohydrates as You Think
While keto has healthy eaters ditching grains left and right, don't let the low-carb craze convince you that a bowl of oats is a total carb bomb.
Oats are grains and contain carbohydrates, but your average one-cup serving of cooked oats comes in at around 28 total grams of carbs. And when you subtract the 4 grams of fiber, you're left with 24 grams of net carbs. Less than you thought, isn't it?
If you're concerned about your carb intake and its effect on blood sugar, just make sure to add a protein source to your oats, says Bede. Any protein source — like eggs, dairy, nuts or seeds — will help create an even more balanced meal. And, of course, stick to one serving at a time, she adds. So break out the measuring cups if you need to!
4. It Can Fuel Your Workouts
Another benefit of oatmeal that applies to both those striving to lose weight and anyone who exercises: It makes a great pre-workout or post-workout meal.
"Carbohydrates are your main source of fuel," says Bede. And our body converts carbs into glycogen (aka, sugar, a type of carb, that's stored in the muscles) and uses it as a source of energy when you work out. That explains why you'll likely feel more prepared and energized for exercise after eating a bowl of oatmeal, Bede says.
Ultimately, being well-fueled ensures you can train as hard and burn as many calories as possible, which is good news for your performance, fitness and fat loss.
5. Oatmeal Can Be Safe for Gluten-Intolerant People
Breakfast, which often includes some form of grains, can be particularly tricky for people with celiac disease or gluten sensitivities. And for them, too, oatmeal comes in clutch.
"It's also one of the more hypoallergenic grains," Bede says. Since oats are naturally gluten-free, they can be a great breakfast choice for people who don't tolerate wheat well. You don't hear "oatmeal wrecks my stomach" too often!
If you have celiac, make sure to purchase oats that clearly state on the label that they're gluten-free since oats can be exposed to cross-contamination during harvesting and processing, Bede advises. (You'll find our go-to gluten-free brands to buy below.)
Read more: Is a Gluten-Free Diet Healthy If You Don't Have Celiac Disease?
6. You Can Turn Oatmeal Into Pretty Much Anything
In addition to providing that extra-special beta-glucan fiber, oatmeal also just so happens to be a super versatile meal. Since it has such a mild flavor, you can completely transform your bowl by adding different toppings.
If you want something sweet, Lewis recommends cooking your oats with soy milk and adding berries, walnuts and chia seeds. "You can also mix flavored protein powder or collagen peptides into your oats," Bede says. Powdered peanut butter (or regular nut butter) also adds some flavor, protein and healthy fats.
If you're after something more savory, cook your oats in plain milk, stir in wilted greens and a bit of butter and top with a fried egg. Bede loves adding nuts or pepitas, a savory sauce (like pesto) and/or grated cheese to an oat base.
And you can even use oats to make homemade granola or protein bars — or even toss a handful into your usual smoothie blend. It's the perfect base for a wide variety of other whole foods, textures, flavors and nutrients.
The Bottom Line: Oatmeal Is Great for Your Overall Health
Thanks to those beta-glucan fibers and other nutrients in oats (like iron), whole-grain oats support your general health and can fit into most balanced, healthy eating plans. "If you're focused on long-term health, oatmeal can be a great choice," Bede says.
The key to ensuring your morning oats support your health for years to come: "Stop putting loads of brown sugar in it and make it a balanced meal with some protein and healthy fats," Bede says. Buy your oats whole and plain and top appropriately.
Source: Live Strong
What's Your Reaction?