10 Clean Eating Tips to Reset Your Diet
Forget your assumptions about restriction, ho-hum meals, and a growling stomach because this plan is easy, tasty, and (gasp!) doesn't take all the fun out of eating.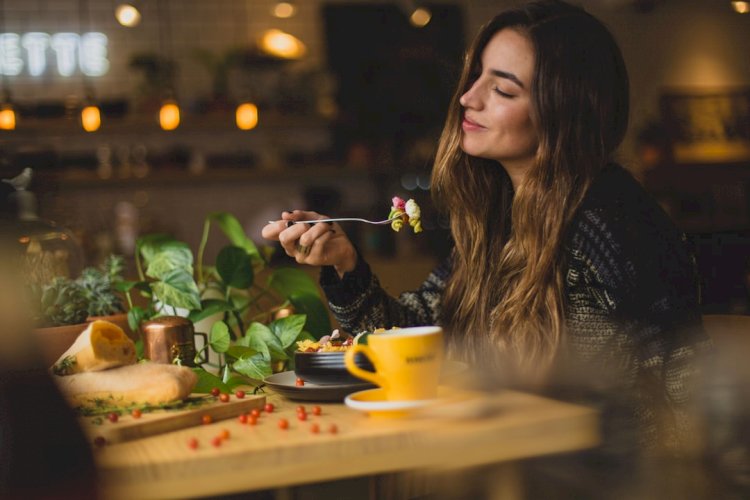 Just the sound of it—"clean eating"—doesn't seem like much fun, right? Clean. Does that mean raw? Is it vegan? Will I need to eat nothing but green juice and lemon water? No, no, and hell no.
DAY1
PHOTO: MASKOT/GETTY IMAGES
Rearrange Your Fridge and Pantry
Step one in basically any goal is getting rid of distractions and things that don't serve you or your purpose. In the case of clean eating, that means actually cleaning—cleaning out your pantry and refrigerator, that is. Toss the frozen burritos and the cheesy foods. Send your marshmallow fluff and caramel corn packing. Even with the strongest willpower, you won't want to stare at these processed foods when you get home, hungry after a long day. Plus, you'll fill that extra space with healthy, whole foods you'll still want to eat.
DAY2
PHOTO: KATRIN TEN EIKELDER/EYEEM/GETTY IMAGES
Set Your Intentions for Right Now (and Beyond)
Part of goal setting is unlocking the reasons behind why you set it in the first place. Why do you want to clean up your diet? Have you gained weight over the last year? Are you stress-eating thanks to a new job? Are you always exhausted? Do you want to improve your #gainz in the gym? Whatever the reason may be (and make sure it's a mindful and healthy reason), harness it to help you stick to your clean-ish eating now, and tap back into it when you need another reset in the future. (This concept of knowing your destination—or seeing the big picture—is one experts swear by to achieve nearly any goal.)
DAY3
PHOTO: CN0R/GETTY IMAGES
Plan Your Meals
Would you jump into powerlifting never having set foot in a CrossFit box? Probably not. So, why would you just wing it with clean eating? Begin with a meal plan and a shopping list. We'll get you started with a clean-ish eating menu for one day (watch the video above) that covers breakfast, lunch, dinner, snack time, and dessert. Use it as inspiration for the rest of the month or check out some of these clean eating spiralized recipes using whole foods.
DAY4
PHOTO: WESTEND61/GETTY IMAGES
Go for More Color
Now's the time to diversify your portfolio of fruits and veggies. While a balance of all the usual suspects will ensure you get lots of variety in both taste and nutrition, try seeking out some of these different colored vegetables that pack a big nutrition punch. You might find that purple carrots are your new favorite thing to eat.
Red Chile Paste Brings a Bold Flavor to Your Grill
The sun is out which means grilling season is upon us. And thanks to Reynolds Wrap® these red chile paste dishes are an easy way to bring your grilling to the next level.
From Reynolds Wrap
DAY5
PHOTO: WILL HEAP/GETTY IMAGES
Have a Snack Time Game Plan
Meal planning is one thing, but when it's 4 p.m. and a craving for pretzels dipped in Nutella hits (don't act like you've never done it), you better have a game plan. Because while this is the clean-ish eating challenge, mindlessly inhaling spoonfuls of Nutella doesn't count as "ish." Try our suggestions—sliced apple with cinnamon and a tablespoon of nut butter, or veggie sticks and crackers with guacamole. Plus, here are some other healthy snack ideas that will help you reach your goal without a sugar setback.
NAILED IT! SHARE NOW
DAY6
PHOTO: ENVISION/GETTY IMAGES
Nix OG Junk Food Entirely
Rainbow-colored cereal, diet soda, double-chocolate cookies—all gone. What's more, these are just the obvious offenders. Processed food doesn't stop at food dye and froyo—even seemingly healthier munchie items like those chickpea crackers or fortified granola are considered processed. While the chickpea crackers are certainly a better choice than a bag of Doritos, avoiding the snack aisle for a month is the way to go to really make the most of this clean-ish adventure.
NAILED IT! SHARE NOW
DAY7
PHOTO: JUPITERIMAGES/GETTY IMAGES
Indulge In Your Favorite Latte (Ish Day)
Is toasted white chocolate mocha your kryptonite? Maybe it's the new maple pecan latte that has you dreaming of a coffee run. Either way, feel free to indulge today. While these options will certainly set you back some serious sugar, we recognize that if you're used to getting pumpkin spice lattes with whipped cream on top, drip coffee with soy milk just isn't gonna cut it for your cravings. Keep the milk low-fat and the size small to cut back on overall calorie count (but don't worry too much about your dairy choice—see day 30). Otherwise, enjoy your Ish day, girl. (Oh, and considering that Starbucks holiday cups can help you de-stress, we think you'll feel pretty good heading into week two of this 30-day clean-ish eating challenge.)
NAILED IT! SHARE NOW
DAY8
PHOTO: CLAUDIA TOTIR/GETTY IMAGES
Cook. Clean Eating Doesn't Mean Raw
While the strictest of clean eating guidelines might make you think this is a raw-food diet, think again. You don't need to eat salads and smoothies and nothing else for a month—though we bet you'll blow through family-size containers of greens. We suggest these genius meals you can prep now to have all week.
NAILED IT! SHARE NOW
DAY9
PHOTO: TED CAVANAUGH
Satisfy Your Crunchy Cravings
You're in serious need of something salty and crunchy, but you ditched your potato chips and buttery popcorn. Don't panic. While we're not going to sugar-coat it (or should we say, salt-coat it) and pretend it's an exact substitute for movie theater popcorn, these fruit and veggie chips are surprisingly satisfying and easy to make at home.
DAY10
PHOTO: ALPHONSINE SABINE/SHUTTERSTOCK
Make Pizza for Dinner (Ish Day)
Yes, pizza can be part of a clean-ish eating plan. Just be mindful of the toppings. Instead of a thick slice of buffalo chicken pizza with bacon, go for a thin-crust loaded veggie pie with fresh ricotta. You'll be able to enjoy a second or third slice without the rich-food hangover.
NAILED IT! SHARE NOW
What's Your Reaction?