Alicia Vikander Tomb Raider Diet and Workout
Alicia Vikander's transformation into the iconic Lara Croft is nothing short of incredible. Through a strict diet and workout regime, the former ballerina was able to become a lean and powerful tomb raider.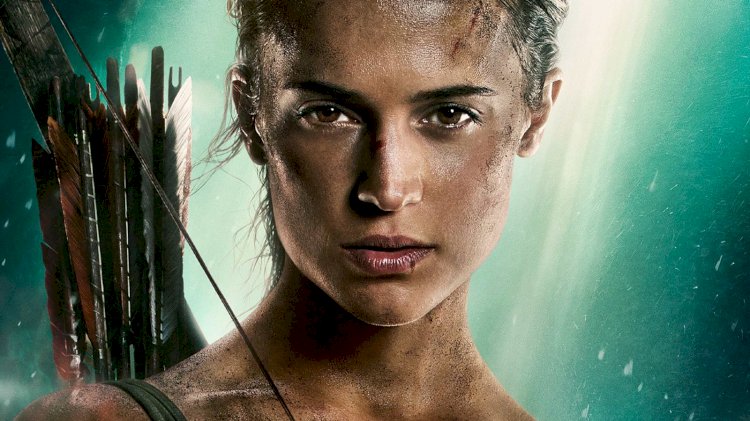 What makes it all that bit more impressive? She couldn't even complete a pull up before she started. Time to find out how she did it…
Tomb raiders must be able to embark on a journey into the deepest, darkest depths of the jungle, and bottomless oceans at any given moment. They are fearless, elite problem solvers and complete experts in survival.
If you've ever come across Lara Croft before, you'll know she's one of the toughest heroines on the planet. She can climb at lightning speed, abseil almost anything, take down henchmen twice her size and leap with explosive power.
So, how did an actress and former ballerina who's never been known for her action roles become such a badass?
Channel Your Inner Lara Croft
In this feature you'll find everything needed to become the most badass action heroine out there. Our team of researchers here at SpotMeGirl have bravely delved deep into the unknown and discovered exactly:
How Alicia Vikander's added 12 lb of lean muscle to her ex-ballerina physique
The bespoke workouts star trainer Magnus Lygdback created to get her there
What diet she used to sculpt her overpoweringly strong frame and shredded look
How you can can do it to…
So, what're we waiting for? Let's dive right in…
The Magnus Method
In order to transform her former frame into that of an unstoppable explorer, Alicia did exactly what most of us would do. Nope, she didn't whip out her credit card to buy a bunch of in-game upgrades. She hired a trainer full of passion, knowledge and experience.
Her choice was fellow a fellow Swede who's been sculpting everyone from rock stars to other actors over 18 years, Magnus Lygdback. A man who would outline every tasty piece of food Alicia would eat, and oversee all her workouts for months.
Now, we totally understand everyone isn't going to be able to just give Magnus a call and fly out to workout with him. Also, we can't see him answering our FaceTime requests each time we cook up a meal prep for the coming week.
On his website, Lygdback says his style is a "philosophy that embraces the ethos of an athlete". That's why our team has taken Magnus' methods, and studied them so you too can build a lean athletic body like Alicia's.
From Actress To Athlete
In order to take her slender frame and become a big-screen action hero, Alicia had to fully embrace an athletic lifestyle. For four months straight, she trained an hour a day, six days a week.
The workouts were challenging, intense and straight to the point. As Magnus loves to say, "what doesn't happen in the first hour, will not happen in the second."
So, to put it simply, everything Alicia did was all about quality, not quantity.
She would often wake up at 5am just to fit her workout of the day into a hectic Hollywood schedule. And alongside training to become an upgraded strong as hell version of herself, she also had to learn how to fight.
To make each combat scene as hard-hitting and ultra-realistic as possible, Alicia had to hit the mats. Quite literally…
Becoming Lara Croft
According to the actress she that action movies had filled her excitement as a young girl.
So in true Lara Croft style, Alicia practiced the essential strikes, throws and joint locks with top MMA experts enthusiastically without question.
Without throwing a spoiler into the mix, the opening scenes of the movie show Lara sparring some pretty ferocious fighters.
As a woman accustomed to battling rivals almost twice her size, Lara Croft is no stranger to kicking serious ass. When it comes to hand to hand combat she's a real hungry lioness.
Here's where the pressure mounted for Alicia to make every blow look for real. But, as a result of her dedicated study with the pros, she executes her attacks almost effortlessly. If you didn't know better, you'd think she'd been training to be a ninja since birth.
Apparently, she even made a huge evil henchman tap-out live on set. How awesome and empowering is that? Maybe when she's given up taking out bad guys we'll see her in the UFC one day…
[infobox] Cool Fact: Ronda Rousey and Gina Carano are two pioneers of women's MMA who have transitioned into Hollywood film stars. [/infobox]
Training Like A Tomb Raider
A tomb raider must be able to explosively clear ravines and take out bad guys like nobody else. Also, anybody who has ever seen Lara in action knows she has unfaltering upper body strength. She can hang from almost anything with iron-like grip, grit and determination.
Magnus decided the best approach was to take inspiration from classic strength training, aesthetic boosting bodybuilding and functional fitness. Lara is an inspiration ally strong woman in every sense, so Alicia's training had to reflect this too.
According to her coach, Alicia's workouts were focused towards building strength throughout her whole body. That meant plenty of variation in her sessions to really challenge every single muscle group.
Alicia's workout week was split, so that her and Magnus could focus solely on specific muscle groups with laser focus. This style of training is super common, and many professional coaches swears by it.
It leaves plenty of time for areas to recover, so athletes can go in hard. For example, Monday could be all about building a back and sounders that can handle the rigors of hanging from a skyscraper. However, Tuesday might be reserved for working Alicia's legs.
[infobox] Tip: Try not to train the same body part using a tough workout two days in a row. This can slow down your progress as you'll never truly recover. [/infobox]
The Alicia Vikander Tomb Raider Workout
By studying the specific movements selected my Magnus, we've created the ultimate Tomb Raider building workout. All that you'll need to complete this program is a go-getting attitude and a standard gym pass.
You may even notice we've included almost all strength building exercises. There's more to this choice than just wanting to make you a physically stronger woman. In fact, it's all about empowerment.
In interviews Alicia has told reporters that she loved the strength building aspect of getting into action heroine shape. She said she found lifting weights very empowering, and still felt feminine even whilst building lean muscle.
We've also divided our workout weak into days dedicated to different muscle groups. This way you will be able to put your absolute everything into one area, safe in the knowledge it can have six days rest until next time.
Legs Day
| Exercise | Reps | Sets | Rest |
| --- | --- | --- | --- |
| Deadlift | 12 | 4 | 1-2 mins |
| Hack Squat | 14 | 4 | 1-2 mins |
| Leg Extensions | 12 | 4 | 1-2 mins |
| Kettlebell Lateral Lunge | 14 (7 each side) | 4 | 1-2 mins |
| Box Jumps | 10 | 3 | 1-2 mins |
Chest & Shoulders Day
| Exercise | Reps | Sets | Rest |
| --- | --- | --- | --- |
| Bench Press | 12 | 4 | 1-2 mins |
| Machine Chest Fly | 14 | 4 | 1-2 mins |
| Push Ups | 14 | 4 | 1-2 mins |
| Plated Front Raise | 12 | 4 | 1-2 mins |
| Lateral Raise | 14 | 4 | 1-2 mins |
Back & Shoulders Day
| Exercise | Reps | Sets | Rest |
| --- | --- | --- | --- |
| Negative Wide Grip Pull Ups | 12 | 4 | 1-2 mins |
| Incline Bar/Ring/TRX Rows | 14 | 4 | 1-2 mins |
| Seated Row | 12 | 4 | 1-2 mins |
| T Bar Row | 14 | 4 | 1-2 mins |
| Front Dumbbell Raise | 12 | 4 | 1-2 mins |
Arms Day
| Exercise | Reps | Sets | Rest |
| --- | --- | --- | --- |
| Bench Press (Standard Grip) | 12 | 4 | 1-2 mins |
| Weighted Bench Dip | 14 | 4 | 1-2 mins |
| EZ Bar Bicep Curl Matrix (Partial Reps) | 7-7-7 | 2 | 1-2 mins |
| Tricep Push Down | 14 | 4 | 1-2 mins |
| Dumbbell Hammer Curl | 12 | 4 | 1-2 mins |
Core Day
| Exercise | Reps | Sets | Rest |
| --- | --- | --- | --- |
| Hanging Toes-to-bar Leg Raises | 12 | 4 | 1-2 mins |
| Medicine Ball Raise Crunches | 14 | 4 | 1-2 mins |
| Stability Ball Pikes | 12 | 4 | 1-2 mins |
| Turkish Get-Ups | 14 (7 each side) | 4 | 1-2 mins |
| Isometric Kettlebell Plank | 30 seconds | 2 | 30-45 secs |
Rest Day
Chill, relax and re-energise, girl. You've worked hard to deserve it!
Eat Like A Tomb Raider
It should come as no surprise that a huge part in the sculpting of the latest Lara Croft was diet-related. As Magnus says, his method is all about embracing an athlete's ethos. So, this meant eating like one too.
For this specific role, the actress ate a very strict ketogenic diet. The ketogenic diet, keto for short, relies solely on fats and proteins as fuel. Carbohydrates are severely restricted, forcing the body to burn fat first and then proteins to create energy.
Fortunately for Alicia Vikander, her trainer took it upon himself to ban all sugary sweet stuff and carb-heavy candy on set. For real – the whole place was a strictly no tasty temptation zone.
The way he saw it, if Alicia couldn't indulge, nobody should put her through the torture of witnessing a whole Hershey bar being devoured. When dieting it can be tough to say no to poor food choices – just remember to be tough and proud of your lifestyle choice.
The actress inevitably suffered the keto-blues for the first few days. But, once her body became adjusted to her new-found way of eating, she quickly adjusted. Apparently, she never complained though, not even once.
[infobox] Tip: When dieting, cook up a bunch of meals beforehand if you know you can't cook later. This will help you keep on track and stay away from the Drive-Thru. [/infobox]
Keeping Keto – The Alicia Vikander Tomb Raider Diet
As mentioned, in order to keep her body in ketosis Alicia could only snack on certain types of foods.
Her go-to protein sources were fish and other seafood, but she's not shied away from expressing her love of chicken skewers on set.
If you're wanting to eat like Alicia, consider these lean protein sources:
Salmon
Tuna
White Fish
Shrimp
Chicken Breast
Turkey Breast
Lean Beef
Eggs
Tofu/Tempeh
Beans/Lentils
When training hard it's seriously important to tap into the vitamins and minerals found in veggies. Knowing this, Magnus had the Swedish film star tucking into plenty of them (making sure not to go over 25 g of carbs per day).
Okay, we're going to get real for a minute. What shocks most people when they learn about a keto diet is the amount of fat these girls eat.
Just remember that fat isn't the enemy, bad food choices are what contribute to unwanted weight gain.
Here's a list of healthy ketogenic approved fat sources:
MCT Oil
Avocado
Coconut Oil
Olive Oil
Nuts
Seeds
Nut Butters (Peanut, Almond, Cashew, etc.)
So, as you now understand, the whole idea is to cut out carbs throughout the whole day. That means a typical day of eating keto might look a little something like this:
Meal
Ingredients
Breakfast: Bullet Proof Coffee
- Cold Brewed Coffee
- MCT Oil
- Whole Fat Grass Fed Butter
Mid-Morning Snack: Mixed Nuts and Seeds
- Brazil Nuts
- Walnuts
- Almonds
- Pumpkin Seeds
Lunch: Salmon, Eggs and Green Vegetables
- Fresh Wild Salmon baked with Lemon
- 2 Pasture Raised Eggs
- Asparagus
- Broccoli
- Spinach
+ pepper for taste
Mid-Afternoon Snack: Beef Jerky
- Grass-Fed Beef Jerky
Evening Meal: Seared Chicken Breast and Avocado Salad
- Seared Chicken Breast
- Whole Sliced Avocado
- Mushroom and Kale Sauteed in Whole Fat Grass-Fed
Butter
- Deli Salad w/ Chilli and Lime Dressing (Zero Sugar/Sweetener Dressing)
[infobox] Key Point: To keep in ketosis eat no more than 5% carbs. [/infobox]
Summary
If you didn't understand how Alicia was able to make such an unbelievable change you sure as hell do now. Let's face it – she's a total animal. On the outside, she might look sweet, but on the inside the has the athletic fire that allowed her to work so damn hard.
So, if you want to pack on the pounds in all the right places too, there can't be any room for cutting corners. Eat right, train hard, and believe in yourself. Oh, and don't forget to fully embrace the female empowerment of weight training.
We're stronger than ever right now. That's why we're fearlessly running through wild places in the search of hidden treasures and taking out henchmen with a single blow.
Now go channel your inner Lara Croft and build that ultimate tomb raider body. We've given you all the secrets – you just need to put in the hard work.
Hey, if you liked what you've just read. Maybe take a look at these:
Source: spotmegirl.com
What's Your Reaction?