TestoFuel vs Prime Male: Which is the Best Testosterone Booster?
Most testosterone boosters claim to offer the same benefits, and it can be difficult to decide which one is right for you. This is especially true when you consider how the internet is crammed with so much conflicting and unsubstantiated information.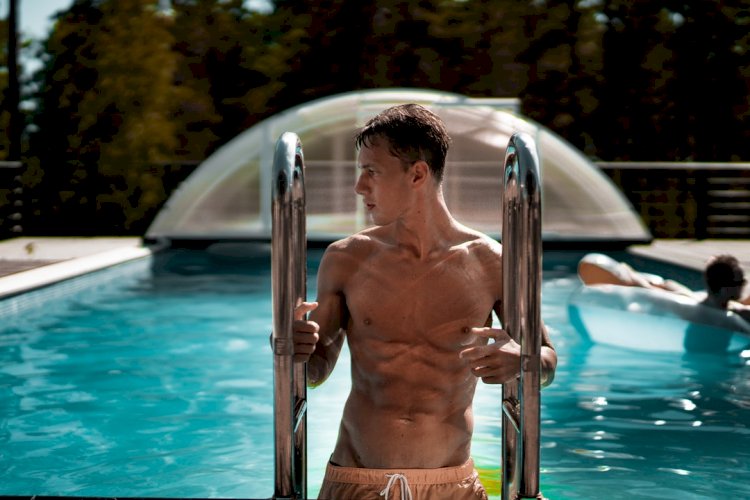 Similar in many ways
That said, TestoFuel and Prime Male contain many of the same ingredients and offer similar benefits – which is why they are worthy of comparison. We look at several different criteria and compare each product side by side.
Which is the better of the two? Does each one live up to the promises on its website? Which represents the better value for money? During this process, we also look at any potential side effects that you may experience when using one or both products.
This close inspection will equip you with the knowledge you need to figure out whether TestoFuel or Prime Male is best for your needs.
During the comparison process, our team of experts pay attention to:
Brand authority and product
Ingredients and research
Serving sizes
Safety and side effects
Cost and value
Finally, we aggregate a final score for each product which takes each of these elements into account. This ensures our comparison test is as fair and uniform as possible at every stage.
So, let's get to it…
Brand authority and product
In this section, we talk about the brands behind these testosterone boosters and assess their respective reputations. While a brand's other products don't necessarily mean they're all good, it's general approach to quality and research is usually a good indicator of what you can expect.
We also delve deeply into the history of both Prime Male and TestoFuel – this should give us some insight into what each product does, and it should allow us to understand the thinking behind their different ingredients and servings.
TestoFuel

First released in 2012, TestoFuel is the product which started it all for Roar Ambition, a specialist supplement company based in the UK. With customers in 178 countries worldwide, TestoFuel is hugely popular – and it's still the company's flagship testosterone booster today.
Roar Ambition focuses its attention on creating a small range of products – all of which fall into the "premium" bracket. This makes a refreshing change in an industry where brands pump long lines of inexpensive products at the market in the hope some of them will catch on. By focusing on a small range, Roar Ambition says it has the time and resources to ensure the ingredients in TestoFuel are always "exhaustively researched".
The company also makes Instant Knockout (thermogenic fat burner), 4 Gauge (pre-workout) and has also recently launched the Hunter brand. To find out more about the different Roar Ambition products, check out the recent SMB reviews.
Bodybuilding legend Robby Robinson is perhaps TestoFuel's most famous user. The former Mr. Olympia credits TestoFuel with helping him stay in shape and build/maintain muscle as he gets older.
In fact, the TestoFuel website boasts a long line of positive testimonials complete with videos and before-and-after photos – all of which suggest this is a great product.
Prime Male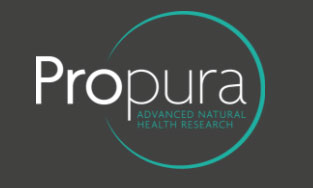 Prime Male is another flagship testosterone booster – this time from Propura, another UK-based supplement company. Released in 2015, Prime Male is another highly-regarded product, but differs from TestoFuel in that's its main audience is older men looking to recapture their youth.
Propura focuses on an even smaller range of products – at the time of writing, the only other product in the company's range is Hourglass – a "hype-free" fat burner for women.
Prime Male vows to help "raise your testosterone level… and change your whole life".
But does it live up to its promise? Well, the signs are certainly there The Prime Male website also boasts a long list of testimonials from satisfied customers. It even counts the actor Dolph Lundgren and NFL legend Andre Reed among its famous "advocates". Lundgren says Prime Male helps him "go at it a little harder" during workouts by increasing his energy and strength.
Ingredients and research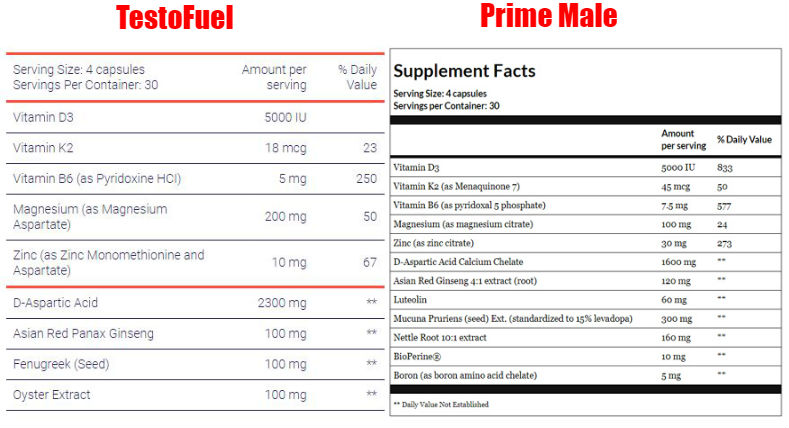 As in the case of every versus post on SMB, we take a look at the key shared ingredients, as well as those which are unique to the different products.
With specific reference to the latest clinical research, we also analyze the potential impact of each ingredient, while also noting how well the servings measure up to the available science.
As you'll see below, both of these testosterone boosters use all-natural formulas and are free from proprietary blends. In fact, they share a number of key ingredients…
Shared ingredients
Vitamin D3
Research links supplementation of this steroid sex hormone to increased testosterone [1], greater strength and more muscle mass [2]. In addition, science also shows a correlation between Vitamin D deficiency and low testosterone.
Much of the research suggests amounts over 3332 IU are effective [3], although the Vitamin D Council recommends 5000 IU as a remedy for the symptoms of deficiency [4] (not least low testosterone). With this in mind, it's great to see 5000 IU in both TestoFuel and Prime Male.
D-aspartic acid
A non-essential amino acid, DAA promotes the release of the Luteinizing hormone – a major forerunner of testosterone production [5]. Research shows D-AA also acts on the Leydig cells to encourage the release of testosterone in the testes [6], enhance libido and increase fertility [7].
TestoFuel contains 2300mg of D-AA and Prime Male holds 1600mg, which makes the former a little more potent in this respect.
Asian Red Panax ginseng
An ancient Ayurvedic herb, ginseng has been shown to increase testosterone and it's more powerful derivative dihydrotestosterone (DHT) [8]. Several studies show the herb can improve the user's sex drive and sperm count. Panax ginseng contains the active ginsenosides – and is said to be the only form of ginseng that boosts testosterone [9] – a check mark for both of the testosterone boosters.
Prime Male contains slightly more panax ginseng than TestoFuel (120mg vs 100mg), but both are in the acceptable range to achieve positive results.
TestoFuel unique ingredients
Oyster powder (100mg)
Crammed with 59 vital trace nutrients, oyster extract is a powerhouse of nutrition. It also holds more than 10 times the amount of zinc you'd find in a slab of steak. This mineral works with D-AA to help the body release more of the body's main testosterone precursor – the Luteinizing hormone [10].
Fenugreek (100mg)
A herb found almost exclusively in Indian cuisine, fenugreek is shown to regulate blood sugar and inhibit the sex-hormone binding globulin (SHBG) for "promising anabolic effects" [11] . As the only way to get the right amount of fenugreek in your diet is to eat lots of Indian food, supplementation is a great way to get your fill without piling on the calories.
Prime Male unique ingredients
Mucuna pruriens (300mg)
Mucuna pruriens is a natural source of L-DOPA [12], which is said to raise both testosterone and human growth hormone. Research also shows the herb can increase testosterone and seminal motility, as well as improving mood by promoting the release of dopamine. It's also shown to reduce stress by lowering cortisol.
Nettle root (160mg)
Nettle root contains lignans – compounds said to bind to the sex-hormone binding globulin (SHBG) [13]. In theory, this allows more testosterone to flow freely around the body. But while many of the guys on the SMB team have achieved great results using nettle root, the research isn't as solid here as it is with other ingredients.
Boron (5mg)
Research undertaken by Naghii, MR et al showed 10mg of boron increases testosterone by up to 28% and reduces estrogen (the female hormone) [14]. While it's great to see Prime Male contains this mineral, it's slightly disappointing that it contains just 5mg – that's half the amount shown to boost testosterone in the study mentioned above.
Serving sizes
When inspecting the directions for both Prime Male and TestoFuel, it's clear these testosterone boosters share more than several key ingredients.
Both products contain 120 capsules per bottle (a 30-day supply in each case). This translates to a daily serving size of four capsules in both cases. If you're used to taking one vitamin tablet daily (for example), a four-capsule serving may seem a lot to take in a single day – but there's a method here!
The reps we spoke to at both companies say this gives the body a steady supply of testosterone-boosting nutrients throughout the day. And this makes total sense. The likes of Hunter Test offer a more potent six capsules per day to busy men who are looking for a way to stay ahead in everything they do. However, a four-capsule serving is the perfect amount for most men.
By contrast, other testosterone boosters we've tried – even those with similar ingredients and amounts – offer serving sizes of just two capsules per day. This could cause at least a couple of issues. First, a two-capsule serving could be too strong to take in one go. Second, it may mean that you experience peaks and troughs in your testosterone levels, rather than keeping it even throughout the day.
But as we said, the four-capsule serving in both Prime Male and TestoFuel is perfect for most needs.
Safety and side effects
Safety and comfort are no doubt primary considerations when you start using any supplement. Keep reading to find out whether TestoFuel and/or Prime Male are safe to take…
TestoFuel
100% natural, all the ingredients in TestoFuel are exhaustively researched and safe to take. But what about the servings? Well, the lack of proprietary blends shows us that all amounts fall within the safe range.
In a study of the effects of D-Aspartic Acid in 10 men over 90 days, two men reported becoming irritable and developing headaches [15]. However, one man in the placebo group also reported the same issues.
Besides this, WebMD also describes D-aspartic acid as "LIKELY SAFE when consumed with food" [16].
With this in mind, TestoFuel is highly unlikely to cause side effects unless you're allergic to any ingredients in the formula. In most cases, the best way to avoid side effects is to stick rigidly to the directions for use.
Prime Male
Like TestoFuel, Prime Male uses all-natural ingredients – and the transparent formula (no proprietary blends) shows that all amounts are properly served to provide results, while it should help you stay safe and avoid side effects.
Nettle root is thought to cause stomach upsets and sweating in some users – although this is mainly from topical (rather than oral) use.
Again, like TestoFuel, Prime Male should be safe to use – unless you're allergic to any of its ingredients. If you're still unsure, we recommend consulting your doctor before taking it.
Cost and value
Both TestoFuel and Prime Male are similarly priced and offer exactly the same deals. Strangely, Prime Male costs slightly more than TestoFuel in the US, but both products come in at exactly the same price to customers in the UK.
As these are similar products in many ways, TestoFuel's slightly lower price could tip the scale in its favor for customers in the US.
| Product | 1 bottle | 2 bottles | 3 bottles + 1 free |
| --- | --- | --- | --- |
| TestoFuel | $65/£39 | $130/£78 - with free shipping to the UK and US | $195/£117 - with free worldwide shipping |
| Prime Male | $69/£39 | $138/£78 - with free US and UK shipping | $207/£117 - with free worldwide shipping |
Pros and Cons
TestoFuel pros:
All-natural formula – unlikely to cause side effects
Optimal amount of vitamin D3
More D-aspartic acid (higher potency)
Fenugreek seed shown to boost testosterone and enhance sex drive
Prime Male pros:
All-natural formula – unlikely to cause side effects
Optimal dose of vitamin D3
Mucuna pruriens may raise testosterone and seminal motility
Boron said to help balance hormones
TestoFuel cons:
Prime Male cons
Slightly more expensive than TestoFuel in the USA
Only available direct from www.primemale.com
Nettle root not as well studied as most ingredients in both formulas
Conclusion
This Prime Male vs TestoFuel review was tough – not least because both are such great testosterone boosters. Each contains similar amounts of key testosterone-boosting ingredients and offers impressive results.
However, we believe TestoFuel is the slightly better product overall. It contains a stronger amount of D-aspartic acid (2300mg vs 1600mg), while Prime Male's use of nettle root means it's not quite as well-researched as the Roar Ambition product.
And to customers in the US, TestoFuel is also the least expensive of the two testosterone boosters – making it slightly better value.
That said, we were more than happy with the results of both products.
Brand authority and product: Draw
Ingredients and Research: TestoFuel
Serving Sizes: Draw
Safety and Side Effects: Draw
Cost and Value: TestoFuel
TestoFuel score: 5/5
Prime Male score: 3/5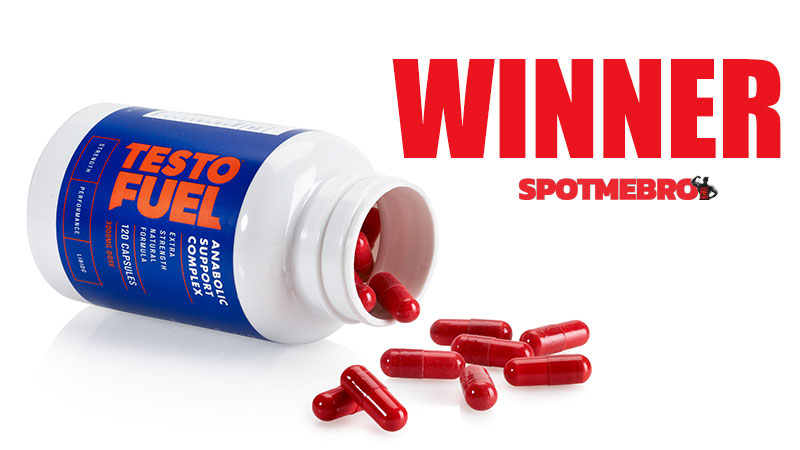 To find out more, or to buy TestoFuel, visit www.testofuel.com
*Individual results may vary. Please speak with your doctor or physician before undertaking any new weight reduction, supplement, or exercise regime.
Source: spotmebro.com
What's Your Reaction?