Top 9 Best Foods For Muscle Building and Growth
The best ways to build muscle mass are working out and focusing on your nutrition. Proper nutrition is very important. The reality is that until you take your nutrition seriously, you won't see the gains you're looking for.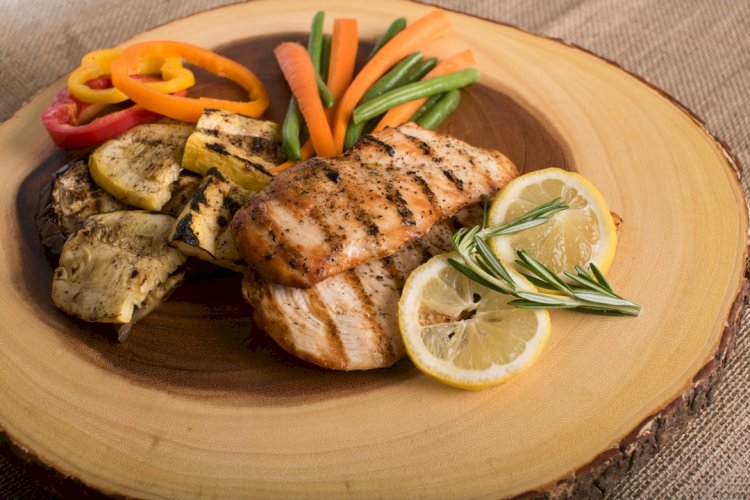 The best ways to build muscle mass are working out and focusing on your nutrition. Proper nutrition is very important. The reality is that until you take your nutrition seriously, you won't see the gains you're looking for.
Don't be the person who trains 2 hours a day and then throws away all that hard work eating whatever you want.
Hey, we get it: Figuring out your own nutrition plan can be complicated. Luckily, there are plenty of free resources out there that can help you plan your nutrition.
To get you started, here's a list of 9 best foods to build muscle, for growth, and to increase strength.
Fish
It's the perfect food to help you build muscle and strength. Fish is lean, making it low in fat and high in protein. Learn more about the different types of fish you can add to pack on the muscle.
Salmon
Full of protein, vitamin B, and omega-3 fatty acids. Omega-3s are essential nutrients that help prevent heart disease and lower blood pressure. Omega-3s can also help increase your muscle mass, while you're exercising and working on your gains.
Tuna
High in vitamin A, B, and Omega-3s. Studies have shown that Omega-3 fatty acids can slow muscle and strength loss, which naturally occurs with age.
Shrimp
Low in fat and carbs, and very high in protein. Shrimp contains leucine, an amino acid that helps optimize muscle growth. Adding shrimp to your nutrition plan is a great way to build muscle without adding a lot of calories.
Tilapia
Contains omega-3 fatty acids, vitamin B12, and selenium, which help your blood cells and nerves stay healthy. These essential nutrients also fuel your exercise, helping you gain muscle.
Scallops
Like other fish, scallops add protein to your diet with very little fat, carbs, and calories. Three ounces of scallops contain around 20 grams of protein and less than 100 calories.
Meat
Lean meat is packed with protein, provides the vitamins to help your body function properly, and may aid in fat loss. Learn more about the different types of meat you can add to your nutrition plan.
Chicken Breast
Contains high-quality protein, as well as the B vitamins niacin and B6, which are necessary for exercise and optimal muscle gain.
Lean Beef
Packed with protein, B vitamins, minerals, and creatine. Creatine helps you produce energy and build muscle. Research suggests that eating lean red meat can help you gain lean mass.
Turkey Breast
High in protein and very low in fat and carbs. Turkey breast is a good source of vitamin B, which can help your body quickly process fats and carbs, producing muscle.
Lean Jerky
Lean jerky provides protein on the go. Most fat is removed from the jerky when it's being processed, so nearly all of the calories come purely from protein. It's best at stimulating muscle growth.
Pork Tenderloin
Lean and protein-filled. Studies have shown it has effects similar to other muscle-building animal proteins.
Bison
Similar to lean beef. Research suggests it may be better for your heart health than beef.
Beans
Soybeans, chickpeas, edamame, pinto, kidney and black beans can be part of a healthy diet. They are an excellent source of fiber, vitamin B, magnesium, phosphorous, and iron. Research shows they may help your long-term health and disease prevention, and may help you gain muscle.
Tofu
Made from soy milk, Tofu is often used as a meat substitute. It's a good source of calcium and is considered the highest quality plant protein.
Nuts
Peanuts and almonds are high in protein, but are also high in calories. (It's suggested that you eat them in moderation.) Nuts have large amounts of vitamin E, magnesium, and phosphorus, which help the body efficiently use carbohydrates and fats.
Dairy
Milk, cottage cheese, and greek yogurt are low-fat and are packed with protein. Plus, they contain the muscle-building amino acid, leucine.
Grains
Buckwheat, quinoa, and brown rice provide important fuel needed to build muscle. Grains are also healthy sources of carbs and fiber.
Eggs
They contain protein and fat, as well as nutrients like vitamin B and choline that are important for muscle gains and energy production.
Protein Powders
Help your body get essential nutrients and vitamins to improve health with well-formulated Protein Powders. Learn about your protein powder and supplement options at gatsport.com
What's Your Reaction?