10 Best Pre-Workouts For MMA Fighters Ranked
10 Best Pre-Workouts, MMA Fighters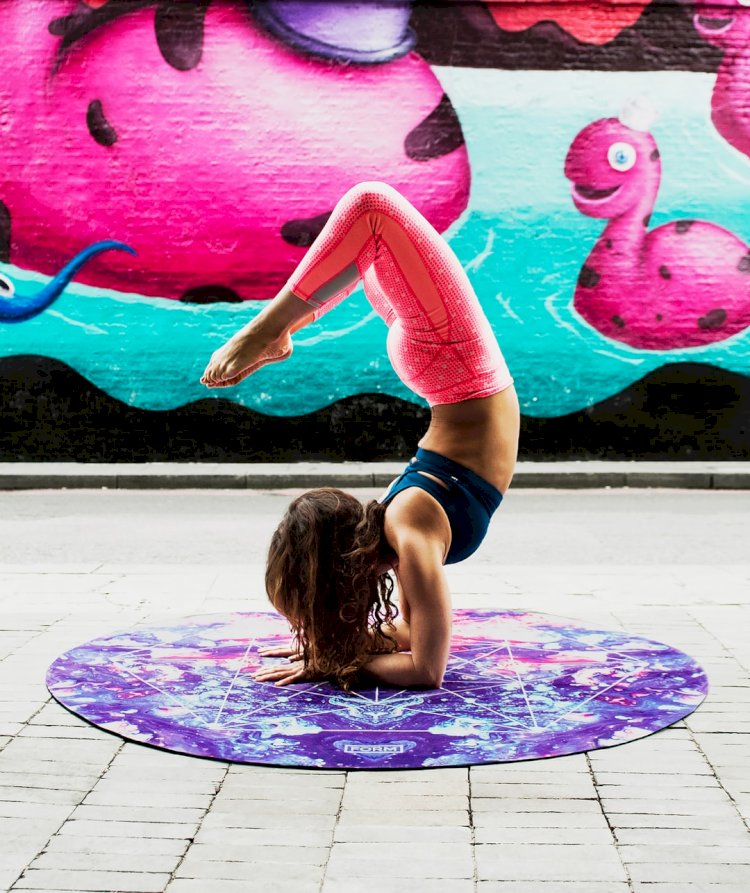 Pre-workouts are packed full of vitamins and minerals to help your body achieve the most out of each workout. Most of these supplements contain ingredients to increase your heart rate and blood flow. Moreover, they aid in focus during your workout, and can modestly increase an athlete's workload.
Pre-workout supplements have become a staple among nearly every high-level athlete, in every sport. For mixed martial arts, in particular, a pre-workout could make the difference between a good training session, or a great training session. Therefore, it is important to ensure that you use the best products available, to achieve optimal results.
We have tested and researched various pre-workout supplements, to determine which are the best in the market. These 10 products have the best chance to provide MMA fighters with good results during the workout, in addition to afterward.
In each summary, will be included reasons for each supplement's ranking. Following that information, we explain how the rankings were determined, along with some FAQs.
1. Legion Pulse
Legion Pulse
Legion's Pulse Pre-Workout mix is designed for giving athletes a massive spike in energy before hitting the gym. This comes as a result of a large amount of caffeine located in each serving. As a matter of fact, it contains a daunting 350mg of caffeine per two scoops. This could turn off some athletes while attracting others, which is why they offer a non-caffeinated version.
In addition to a substantial amount of caffeine, this pre-workout solution contains a variety of nutrients to help elevate an athlete's NO levels. Moreover, Legion scientifically tests their supplements to ensure quality. In fact, they are one of the few pre-workouts to have LabDoor's "Tested for Sport" certification, which means it has been screened for substances banned by most major sports organizations.
Pros and Cons:
Large amounts of caffeine ensure the high pump and increased stimulation
"Tested For Sport" Certification helps protect against tainted supplements, and ensures trust
Contains few anti-caking agents and natural non-caloric sweeteners
Ingredients (per serving)
L-Citrulline DL-Malate (2:1) – 8g
Beta-Alanine – 3.6g
Betaine Anhydrous – 2.5g
Caffeine Anhydrous – 350mg
L-Theanine – 350mg
Alpha-Glyceryl Phosphoryl Choline (GPC) – 300mg
Made By:
Legion is the manufacturer of this pre-workout. This brand was founded by Mike Matthews, with the intent to provide accurate and scientifically backed supplementation for high-level athletes. It is a brand known and trusted throughout the world, for being upfront with the ingredients in their products, and how those help you perform.
Legion's Pulse Pre-Workout is a very effective supplement, designed for the most serious of athletes. If your intent is to get in the best workout you can, with the highest level of energy available, this may be the supplement for you.
Ranked For: Availability, effectiveness, intensity, price
Buy Here:
Powerful performance boost
Superhuman endurance
Smooth energy rush
$34.97
2. NO-Xplode 2.0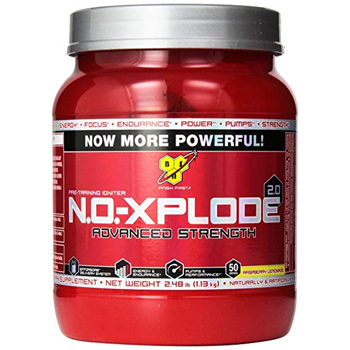 No Xplode
NO-Xplode 2.0 is one of the most easily-accessible pre-workouts you can find. It is found in many retail stores, but this does not take away from its value and ability. It is jam-packed full of the typical things found in its counterparts – caffeine, vitamin B, beta-alanine, and much more.
Things get interesting with this pre-workout when you start to look at its proprietary workout blend. It contains a multitude of ingredients not seen in other supplements, with no scientific testing to back it up. Therefore, questions surround its effectiveness, other than what is typically found within pre-workouts.
Pros and Cons:
Wide-range of nutrients and minerals to give your workout a boost
High levels of Vitamin B and Caffeine provide strong pumps, for a solid workout
Proprietary Workout Blend contains unique ingredients which potentially set them apart from competitors
Ingredients not tested for scientific accuracy
Contains sucralose and artificial colorings
Ingredients (per serving)
Vitamin D – 12.5mcg
Creatine – 5.1g
Vitamin B6 – 2mg
Vitamin B12 – 6mcg
Taurine – 5.1g
N-Acetyl-Tyrosine – 1.3g
Caffeine – 275mg
L-Citrulline Malate – 1g
Beta-Alanine 1.8g
Made By:
Bio-Engineered Supplements and Nutrition, Inc. (BSN) is the company behind this pre-workout. According to their website, they have received more than 35 sports nutrition awards to their name. Their products are sure to give a boost of energy to get you through your boxing or BJJ workout, so long as you trust the results.
Ranked For: availability, intensity
Buy Here:
SALE
Supports Explosive Energy
Intense Focus
Extreme Pumps
Maximum Performance
Enhance Endurance
$52.24 - $8.38 $43.86
3. Vintage Blast
Vintage Blast
Vintage Blast Pre-Workout is one of the most scientifically-inspired supplements you can find in the market. They use a variety of very specific ingredients to formulate a product that will help your body reach maximum gains. Specifically, this product has a combination to help you both in the short-term and long-term of your workout.
The most noteworthy aspect of this pre-workout is its unique two-stage formula. The first stage of this supplement is for you to "Start Strong," with a combination of things such as caffeine, and beta-alanine. However the second stage, or "Finish Strong," has slow-releasing ingredients like microencapsulated caffeine, to work overtime.
Pros and Cons:
Multiple helpful ingredients, such as Vitamin B6, and niacin
Contains good amounts of amino acids, and energy boosters
High levels of zinc, which could result in dangerous levels if combined with other zinc-based multivitamins
Contains synephrine, which is known to have had a questionable safety history
Ingredients (per serving)
L-Citrulline Malate – 5000mg
Beta-Alanine – 1000mg
L-Arginine AKG – 1000mg
L-Carnitine Tartrate – 250mg
Caffeine – 150mg
D-Aspartic Acid – 2000mg
N-Acetyl L-Tyrosine – 250mg
Micro-Encapsulated Caffeine – 100mg
Made By:
This pre-workout is manufactured by Old School Labs, which looks to take an old school approach to their supplementation. Despite that mentality, they still have managed to change the game a bit, with this product. Its two-stage formula contains a majority of scientifically-proven ingredients provide results. So long as you use it according to your needs, this pre-workout is sure to lead to success.
Ranked For: price, effectiveness, availability, scientifically proven
Buy Here:
Provides steady performance boost for the entire duration of your workout
Macronutrients and electrolytes provide hydration and decrease oxidation
It's Gluten-free, Non-GMO, vegan and keto-friendly
$39.99
4. Cellucor C4 Extreme
Cellucor C4 Extreme
C4 Extreme Energy is one of the most popular pre-workouts in the world, even rated as Amazon's highest seller. It has a good blend of ingredients to give you a massive boost before you hit the gym. Moreover, it contains creatine nitrate, rather than creatine monohydrate which can lead to bloating.
However, there are some important things to keep in mind with this product. It has a fairly good amount of caffeine, which may result in a crash post-workout. Moreover, it has synephrine, which has been known to have harmful side effects.
Pros and Cons:
Plenty of caffeine, vitamin C, vitamin B6, beta-alanine, among other things to provide a jump start to your exercise
Contains creatine nitrate, a slightly better alternative to creatine monohydrate
The brand has been around for over 15 years, as one of the top-rated in the industry
Made with questionable synephrine, known to cause side effects
Ingredients (per serving)
Beta-Alanine – 3.2g
Creatine Nitrate – 1g
Arginine – 1g
Caffeine – 300 mg
Vitamin C – 250mg
Niacin – 30mg
Made By:
Cellucor is the brand behind this massively successful pre-workout. This company has been around since 2002 and has earned trust throughout their more than 15-year career. They scientifically back all their ingredients, and are trusted for their ability to provide results.
Rated For: price, availability, scientifically proven, trusted
Buy Here:
Cellucor C4 Extreme Energy Pre Workout
Provides explosive energy
Support muscular endurance
Has ZERO sugar, carbs, or calories
$32.83
5. Kaged Muscle Pre-Kaged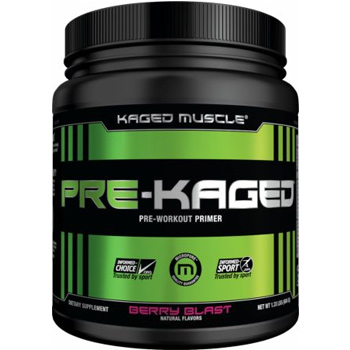 Kaged Muscle Pre Kaged
PRE-Kaged is a pre-workout supplement made by Kaged Muscle, a well-trusted company. The product is highly rated among its users, due to its transparency of what ingredients are included in the product. Moreover, they go so far as to clearly label their products, with the proper doses of each ingredient.
As far as performance goes, this pre-workout is one of the best. The blend of caffeine, taurine, BCAAs, creatine, and more leads to excellent results. Additionally, it has a good, all-natural, flavor, along with an affordable price. This product is perfect for any aspiring fighter.
Pros and Cons:
Clearly labeled with all their ingredients
Packed full of caffeine creatine, and taurine to boost your workout
Clinically studied to ensure the strength and purity of ingredients
All-natural colors and flavors
Ingredients (per serving)
Organic Caffeine – 100mg
Taurine – 2g
Creatine HCI – 5g
L-Citrulline – 5g
Coconut Water Powder – 500mg
Carnosyn (Beta-Alanine) – 6g
Fermented BCAAs – 5g
Spectra Total Orac – 100mg
Beta power (Betain) – 2g
Made By:
Pre-Kaged is made by Kaged Muscle, who prides themselves on their trustworthiness. They have their ingredients verified by third-party services, to ensure that they maintain that trust. Additionally, they use ingredients that are patented and clinically studied. Moreover, they go as far as to ensure that they do not include any substances banned by major sports organizations.
Ranked For: price, trusted, scientifically proven, availability
Buy Here:
KAGED Muscle Pre-Kaged Pre Workout
Provide insane energy and focus
Massive Muscle Pump
Easily Absorbable
Free of banned substance
$39.44
6. ENGN Pre-Workout by Evlution Nutrition
Engn Pre Workout
ENGN Pre-Workout is an extremely affordable pre-workout, designed to provide endurance. Its ingredients are chosen to allow for delayed muscle fatigue, resulting in longer and harder workouts. It is filled to the brim with healthy servings of ingredients to allow you to finish those final rounds of sparring.
Their proprietary "ENGN Mind-to-Muscle Matrix" blend is full of caffeine, betaine-anhydrous and more to allow for a longer workout. Additionally, they include a strong serving of beta-alanine to help push you that extra mile. Moreover, this pre-workout has B vitamins and niacin.
Pros and Cons
The high concentration of beta-alanine
Great value for a low price
Proprietary blend contains ingredients not backed by science
Ingredients (per serving)
• Beta-Alanine – 1,600mg
• Creatine Complex (creatine monohydrate and magnesium creatine chelate) – 2,000mg
• ENGN Mind-to-Muscle Matrix Proprietary Blend (betaine anhydrous, choline bitartrate, tyrosine, caffeine anhydrous, etc.) – 2,213mg
Made By:
This pre-workout comes to you, courtesy of Evlution Nutrition, a company founded by ex-BMX pro-Mike Spinner. When this company was founded in 2013, it was met with massive praise. Subsequently, they were rated Bodybuilding.com's Breakout Brand of the Year. Therefore, their products are recognized for their value.
Rated For: price, availability, intensity
Buy Here:
Evlution Nutrition ENGN Pre-Workout
Provides Intense Energy
Maximum Focus
Extreme Pumps
Explosive Power
$29.99
7. ProSupps Mr. Hyde
Prosupps Mr.Hyde
Mr. Hyde is one of the most intense pre-workout supplements available. This supplement is full of powerful stimulants, caffeine, and creatine to give extreme focus and energy to your workout. This is intended strictly for those serious about their fitness.
This pre-workouts "caffeine matrix" is enough to turn away some casual athletes. However, they also include some supposedly effective natural herbal extracts that boost your energy. Also, it is worth noting that they previously used synthetic compound picamilon, but this was frowned upon by the FDA, therefore removed.
Pros and Cons
High-intensity supplement, designed to deliver optimal focus
Copious amounts of caffeine, and other stimulants
Contains creatine hydrochloride, and agmatine sulfate for strong effects
Questionable ingredients, not backed by science
Ingredients (per serving)
Beta-Alanine – 2.5g
Creatine Hydrochloride – 1g
L-Leucine – 500mg
Agmatine Sulfate – 500mg
L-Citrulline Malate – 500mg
Caffeine Anhydrous – 300mg
Dicaffeine Malate – 69mg
Caffeine Citrate – 50mg
Pikatropin – 50mg
Tyramine – 50mg
Hordenine – 50mg
Yohimbe Bark Extract – 2mg
Made By:
Mr. Hyde pre-workout is manufactured by Pro Supps which is a fairly popular supplement company. Their main focus is on pre-workouts, with an affordable price. Subsequently, they look to fill their products with the most amount of useful ingredients, at the cheapest price point.
Ranked For: price, intensity, effectiveness
Buy Here:
ProSupps Mr. Hyde NitroX Pre-Workout
Support muscle strength and endurance
Provide 2x energy
Intense focus
Bigger pumps
$28.65
8. GAT Sport NITRAFLEX
Gat Sport Nitraflex
NITRAFLEX is a powerful pre-workout designed to boost your energy, focus, and strength. They utilize a vasoactive complex, which causes hyperemia. This results in an increase of blood flow to your muscles. Additionally, they have a testosterone-boosting complex as well, designed to help build muscle.
Their pre-workout is designed to provide a strong boost during your workout, to maximize strength and muscle-building. Subsequently, they have all their products tested by third parties to ensure quality and effectiveness. Moreover, the facilities producing the supplement are top-of-the-line, and FDA inspected.
Pros and Cons
Ingredients to boost both energy and testosterone
Vasoactive complex allows for more muscle growth
Creatine free
The ingredients list is a bit limited in its transparency and usage
Ingredients:
NITRAFLEX Proprieceutical Blend – 7.25mg
Vasoactive Arginase-Regulating NO Precursor Complex
Acute Energy, Focus, Intensity, Neuromodulating, Endurance Complex
Clinically Studied Testosterone-Enhancing Complex
Made By:
NITRAFLEX pre-workout is made by GAT Sport. This manufacturer has been around for over 20 years, making nutritional supplements that have received high praise. Their dedication to having well-tested supplements, made in high-end facilities has set them above the rest of their competitors.
Rated for: price, availability, effectiveness
Buy Here:
Maximizes Energy and Stamina
Build muscle mass
Support free testosterone
$29.98
9. Transparent Labs BULK Pre-Workout
Transparent Labs Pre Workout
One of the strongest pre-workout supplements on the market nowadays, Transparent Labs Pre-Workout has been beneficial for many mixed martial arts athletes. They have various products based on your performance needs. Additionally, all of their pre-workouts contain no GMOs or artificial sweeteners and colors.
Pros and Cons:
Variety of formulas, geared towards bulking (BULK), or sliming (LEAN) needs, as well as stimulant-free (STIM-FREE)
20 active ingredients including BCAAs, beta-alanine, taurine, vitamin D3
NO Colored Dyes, artificial sweeteners, or unnecessary fillers and additives
No flavor variety
Ingredients (per serving)
Citrulline Malate – 6g
Beta-Alanine – 4g
BCAA (2:1:1 ratio) – 4g
Betaine Anhydrous – 4g
Taurine – 3g
Tyrosine – 600mg
Caffeine Anhydrous – 180mg
Made By:
This product is manufactured by Transparent Labs, out of Utah. Transparent Labs is known for being an upfront and honest brand, relying on proven science for their products. Additionally, the company is "Transparent" about what ingredients go in all their products, including the pre-workouts. Moreover, they go as far as to explain how each and every ingredient helps your performance in the gym.
The Transparent Labs Pre-Workout is one of the most well crafted, and scientifically-backed products on the market. It's trusted manufacturers and proven results leave this as one of the best boosts an athlete can give to their workout.
Ranked For: price, availability, trusted, scientifically proven, effectiveness
Buy Here:
100% formula transparency
Testosterone Support complex (vitamin D3, boron, and zinc)
Vegan friendly
$49.00
10. Performance Lab SPORT Pre-Workout
Performance Lab Sport Pre Workout
One of the biggest draws for the Performance Lab SPORT Pre-Workout is that it promises to provide the same result as other similar products. However, what sets it apart from the other competitors, is its lack of any sort of stimulants. What this means, is that there is no crash after your workout.
In addition to that, this pre-workout also contains helpful things like antioxidants, to assist in replacing electrolytes lost during your workout. Moreover, they use scientifically proven ingredients to raise and maintain your nitric oxide (NO) levels. Subsequently, athletes notice this aids in providing excellent circulation of blood throughout your muscles.
Pros and Cons:
No caffeine or other stimulants – no post-workout crashing
Packed full of scientifically proven nutrients to help with workout
Vegan-friendly
High Sodium
Ingredients (Per Serving)
Sodium – 140mg
Creatine (as Creapure pH10) – 1000mg
Cordyceps Sinensis – 750mg
L-citrulline – 500mg
L-glutamine – 250mg
L-carnosine – 300mg
Himalayan Pink Salt – 350mg
Maritime Pine Bark Extract – 100mg
Made By:
This pre-workout comes from Performance Labs. They claim to use a blend of nutrients that are unlike any other supplement companies. Additionally, they thoroughly test each product, to ensure the highest level of results that every athlete expects. Moreover, Performance Labs uses what they call NutriGenesis, an eco-friendly approach to provide their products with a boost in bioavailability and health effects.
The Performance Lab SPORT Pre-Workout is one of the top products on the market. Its a multitude of ingredients, along with lack of stimulants makes it a favorite among athletes worldwide.
Ranked For: price, scientifically proven, trusted, effectiveness
Buy Here:
100% formula transparency
Testosterone Support complex (vitamin D3, boron, and zinc)
Vegan friendly
$35.00
Qualifications For Ranking Pre-Workouts
When rating these pre-workout supplements, we took careful consideration to what factors are important for success. Those factors were narrowed down to six main things: price, availability, effectiveness, scientifically proven, intensity, and trust.
Price – affordability is a key factor, especially for young MMA fighters
Availability – the products are found in multiple places, both online and in-store
Effectiveness – looking at the ingredients, does this product contain things known to be effective
Scientifically Proven – products that are tested by third-parties, and are backed by science provide an ease of mind
Intensity – this is an indicator that a product is very potent, with high levels of stimulants
Trust – one of the most important factors, as not trusting a brand makes it hard to want to use it
Subsequently, these factors were the main considerations when ranking each product on this list.
FAQs (Frequently Asked Questions) About Pre-Workouts
What is a pre-workout supplement?
A pre-workout supplement is a tool designed to give an athlete a boost to their workout. They typically contain some variation of ingredients to provide increased blood flow in your muscles.
Additionally, they assist in energy and focus, and an increased heart rate to allow for better results.
What are the dangers of using pre-workouts?
Some of the dangers in using pre-workouts are in what ingredients each product has. Subsequently, it is important to be able to trust the ingredient list on a supplement.
Typically, most pre-workouts contain caffeine or other forms of stimulation, which can be risky if you have heart conditions, or are sensitive to such things. Always consult a physician with any concerns about using supplements or physical fitness.
What are the benefits of using pre-workouts?
Pre-workout supplements are helpful in boosting energy and focus. Additionally, they can assist in athletes who have plateaued, in taking their workouts to the next level.
Depending on the product, some even help with building muscle.
How do I take pre-workouts?
The best advice on taking pre-workouts is to read the label and follow the instructions. Do not take more than the recommended dose. Furthermore, if you are new to pre-workouts, it may be wise to start with a half dose to see how your body reacts.
Also, it is advised to take breaks every few months, as your body can become accustomed to the product you use.
Recap
Finding the right pre-workout supplement for your mixed martial arts training could make the difference in your sessions. However, it is important to remember that some pre-workouts are better than others, and you should find the one best for your needs.
Subsequently, when you find the product that you trust to give you the best results, be sure to take it as directed.
Source: MiddleEasy.
What's Your Reaction?