15 Fitness Gifts She'll Actually Use
Don't just grab anything off the shelf, bro. Get her a gift she'll actually use this year instead. Here are 15 fitness gifts for females that won't disappoint…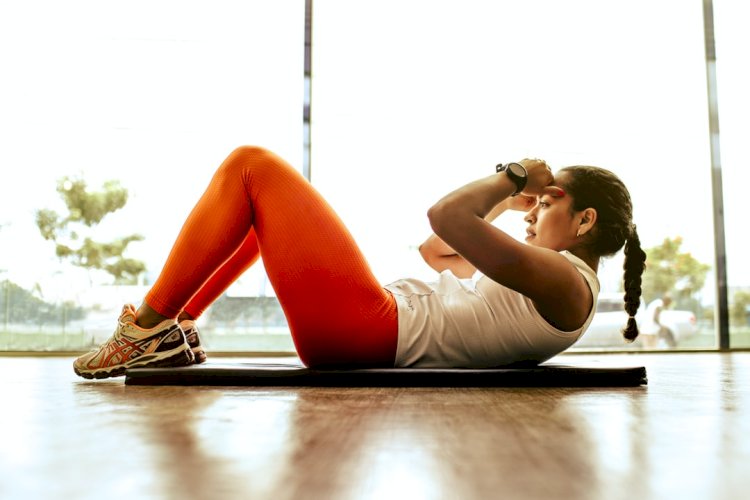 15 Fitness Gifts She'll Actually Use
Treat her to the tool every female fitness fan needs – a foam roller. And while the standard versions might do the trick, the TriggerPoint four-speed vibrating foam roller takes DOM busting one step further. She'll love you for this after leg day.
Featuring a patented multi-density GRID surface, this roller channels blood, and oxygen through the muscles, to improve circulation and speed up muscle recovery. The best bit? It does it all while delivering relaxing vibration frequencies. If she's been kicking ass in the iron house all year this is the perfect gift for her.
Nothing breaks the zen-like state of finishing up a great yoga class like battling with the mat. So, help your female fitness fan stay calm and focused with this self-rolling smart yoga mat. All she has to do is flip, click, and watch it roll up neatly all by itself. And breathe.
The Backslash self-rolling smart yoga mat is soft and comfy too. Featuring 5 mm thick patting, there's more than enough cushioning for every kind of pose, plus the covering is super easy to keep clean.
#3 – YOGU Stability Exercise Ball
Does your female fitness fan love to workout anywhere and everywhere? Yes? Roll this under the Christmas tree and watch her eyes light up like Santa's sleigh. Because while we just see a big-ass bouncing ball, she sees the ultimate workout tool. Pilates, core, and stability workouts can all be made possible with just one stability ball.
We recommend this high-quality version from YOGU because not only is it anti-slip, but anti-burst too. According to the manufacturers, it can handle up to 2,000 lb of pressure, which is more than enough to accommodate any home workout over the holidays.
When it comes to the holiday season it can be hard to stay motivated. All of a sudden, the nights get longer, the food gets tastier, and smashing goals gets set aside for decorating trees and Christmas movies. We're all guilty bro…
So, why not give a little lifting inspiration? Forget another dumb sweater – what she really wants is empowerment. How I Became the Fittest Woman on Earth is the gripping account of how CrossFit Games Women's World Champion, Tia Toomey, rose to the top of her sport, making name for herself as the fittest woman on the plant. Give this to a lady who lifts and fuel her fire well into the New Year.
Need a no bullsh*t gift for a no bullsh*t girl? NOBULL have got you covered.
There's no gimmick to these shoes – no promising to make her squat like a Godess in an instant. They're just sleek, stylish, and God damn functional training shoes. Not only that, but these shoes are designed with every kind of workout in mind, so you can send them to Santa safe in the knowledge they won't just sit in the back of the closet. You know, like all the other sh*t you've bought her over the years…
If you haven't noticed women train hard. That means a helluva lot of sweat, blood, and sometimes tears.
So, why not keep her safe and hydrated with a brand-new water bottle? You know she probably needs one – but she's so busy smashing her goals on the daily she just hasn't had the time to change it. We recommend that rather than the usual holiday kind, get her a bottle she can use time and time again. A unique and reusable one that doesn't leave a nasty hangover.
Give her this gift of endless energy to take on her New Year fitness goals with 4Guage. Because, after all bro, nothing supercharges a lady's workout quite like a high-quality pre-workout. Fact.
The reason we recommend 4Gauge for women is because of its all-natural ingredient list. Plus, the manufacturers are very proud of their total lack of proprietary blends, which seals the deal for us in terms of safety. Just don't come crying when she's kicking your butt in the iron house come January, bro.
Get her rocking the box with the 'coolest' knee sleeves out there. Not only will they do their job in helping her stay safe, but she'll look awesome smashing box jumps and burpees too.
Knee sleeves are functional for all kinds of fitness. They provide support, comfort, and stability for everything from HIIT classes to powerlifting, meaning you'll have all the bases covered. Let's not forget these guys look pretty badass too, which is exactly why you'll accidentally order four…
#9 – JerkFit Wodies Palm Protectors
Callouses are cool until they get in the way of your workout. For female fitness fanatics who go hard in the gym, this is something they know all to well. So, how about helping her out this holiday?
If you've ever heard your lifting lady complain about her callouses gift her a pair of palm protectors. Unlike traditional weightlifting gloves, palm protectors only cover the essential areas, while providing the same skin saving benefits. They're also really common amongst CrossFit circles where athletes battle bars on the daily, making them 'THE' gift for any aspiring WODstar.
When the holiday season is finally over, almost all fitness fans start looking toward the new year. That means one thing – reclaiming that pre-Christmas snacking body.
Instant Knockout is a premium fat burning supplement designed specifically to help people achieve their body goals. It works by combining a bunch of all-natural ingredients proven to aid calorie burning or energy levels. This means it's ideal for supporting anybody's New Year weight loss goals, as it has all the tools to get results faster, while providing energy to crush kickass workouts.
Kettlebells are awesome. All you need is one bell, a bit of grit, and your imagination to hit a full-body workout.
Wrap a bow around this bell from Rep to give the gift of total gains this year. She'll be able to use it anywhere she likes, whenever she feels like working out. The kettlebell is small enough to fit in a gym bag for on-the-go workouts, light enough to carry to work, or even rugged enough to be thrown in the back of a trunk and taken on vacation. So, if your female fitness fan is always on the move, the Rep Kettlebell is the perfect present for her.
Ever spot your girl struggling with her headphones in the squat rack? Wires getting tangled everywhere and throwing her off her A game? It's time to bring her into the new age, bro. She really needs a pair of wireless headphones.
With a set of Beats Solo3's, she'll be able to hear the fire all day long. Even if it's 'Jingle Bell Rock' on repeat – she can go ass to grass for hours in these beauties. Offering up to 40 hours of battery life, these stylish Rose Gold headphones will provide all the beats she needs to smash set after set, while still looking streamline and fresh.
What to get the girl who has everything? No, not another sports bra or protein shaker, but something she loves. Yup – a full 12-week workout and nutrition plan courtesy of Boss Workouts.
Shape & Burn is a total 12-week transformation plan for achieving the ultimate fitness model body. Designed by leading industry experts alongside bikini competitor Niki Zager, this online program has everything a woman could want to help her nail her New Year fitness goals, including planned out sessions, diet plans, instructional videos, and tasty recipe ideas. Plus, once purchased outright, the plan can be kept forever for a lifetime of gainz.
It's not just our workout routines we need to keep up to date, but our gear too. So why not have your female fitness fan step into 2019 looking as fresh as ever, in a brand-new set of tights.
She'll love these from New Balance. Perfect for any fitness occasion, the Accelerate tights feature an ultimate double stretch knit, mid rise waistband, and NB Dry technology to wick sweat away when the going gets tough. Is she a runner? Even better, these tights also have a reflective logo and taping to keep the wearer safe while pounding the pavement.
Does your lady love her tech just as much as lifting? The FitBit Charge3 has you covered. With 24/7 heart rate tracking, daily calorie burn calculator, and up to 7 days battery life she'll have all the stats she'll ever need.
Wearers can choose from over 15 exercise modes to track their workouts in real time and can even record how well they've slept. If she's the sort of woman always looking to fix-up her fitness game these stats are simply invaluable.
However, the biggest standout point for us is that the Charge3 is swim proof, rugged enough to handle outdoor runs, and you can connect it to a smartphone. So, no matter how badass your lady's lifestyle is, the Charge3 can keep up no problem.
There you have it, bro. 15 fitness gifts she'll actually use, that won't end up in the trash or closet.
Source: spotmebro.com
What's Your Reaction?