GAT Sport Introduces New Creatine HCI+
Monroe, CT, September 16, 2022 — GAT Sport is pleased to announce the official global release of its all-new GAT Sport Creatine HCI+ creatine supplement. It's a significant advance over other creatine supplements, with three very powerful patented ingredients in a unique Multi-Stage Creatine and Nitric Oxide (NO) formula.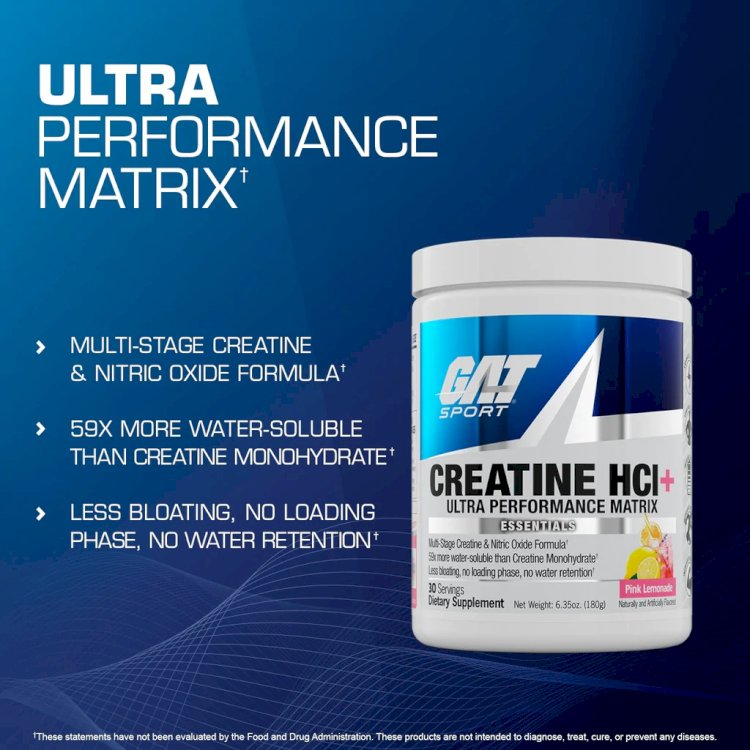 GAT's newest Essential, Creatine HCI+ Ultra Performance Matrix has several powerful key compounds, including the sole macrodosing, patented Creatine HCI. It contains a Multi-Stage Creatine & NO Formula, with clinical levels of performance-enhancing ingredients. Notably, it's 59x more water-soluble than Creatine Monohydrate and creates less bloating. Plus, there's no loading phase and causes no water retention. The three flavors are quite amazing.
GAT Sport President & CEO Charles Moser made the announcement, "Our GAT Creatine HCI+ is our latest ultra performance, scientifically-advanced, multi-creatine formula. Using it, our customers can increase athletic strength, lean mass gains, energy, endurance, hydration, muscle and power. It combines NO3-T® Creatine Nitrate and Agmatine Sulfate for enhanced blood flow, nitric oxide production, amplified energy, power, strength, endurance, and recovery. Plus, Taurine, Pink Himalayan Sea Salt and AstraGin® enhance cellular uptake and bioavailability for overall hydration and performance."
New GAT Creatine HCI+ is available now in three delicious flavors: Blue Raspberry, Fruit Punch, and Pink Lemonade.
This great-tasting formula can readily stack with any popular GAT Sport protein powders, aminos and pre-workouts, a feature that GAT customers request and expect. Stack it with Nitraflex, Pumptropic, and PMP pre-workouts, FLEXX EAAs™ intra-workout, and other GAT Essentials Vitamins & Minerals products.
About GAT Sport
Charles Moser, President & CEO, has over 20 years' experience in training and supplementation formulation, design and marketing. Under his leadership, GAT Sport creates edgy, forward-looking products that propel athletes worldwide, and the industry. Designing with clinically researched ingredients and university studies, he produces and markets clinically tested, efficaciously-dosed formulas that become legendary. Charles is diversifying this highly respected global brand with high-energy workout products and those for repair and recovery after training, plus general health & fitness. He drives TeamGAT to compete harder every day and on every level. Follow Charles on Instagram @GAT_CEO_Charles_Moser.
facebook.com/gatsupplements 223.6k Followers
instagram.com/gatsupplements 184k Followers
twitter.com/gatsportusa 6.8k Followers
These statements have not been evaluated by the Food and Drug Administration. This product is not intended to diagnose, treat, cure or prevent any disease.
What's Your Reaction?