GAT SPORT Reveals Its Unique Reformulated Muscle-Building Fat Burner Nitraflex Burn
GAT Sport announced that it has reformulated its legendary NITRAFLEX® BURN product. NITRAFLEX® BURN is an extremely potent pre-workout powder that combines muscle-building ingredients with thermogenics to aid with fat-burning. "I'm incredibly proud of this reformulation. It's our most powerful NITRAFLEX® BURN formula yet, and the flavor profiles are simply out of this world," says Charles Moser, GAT Sport President and CEO.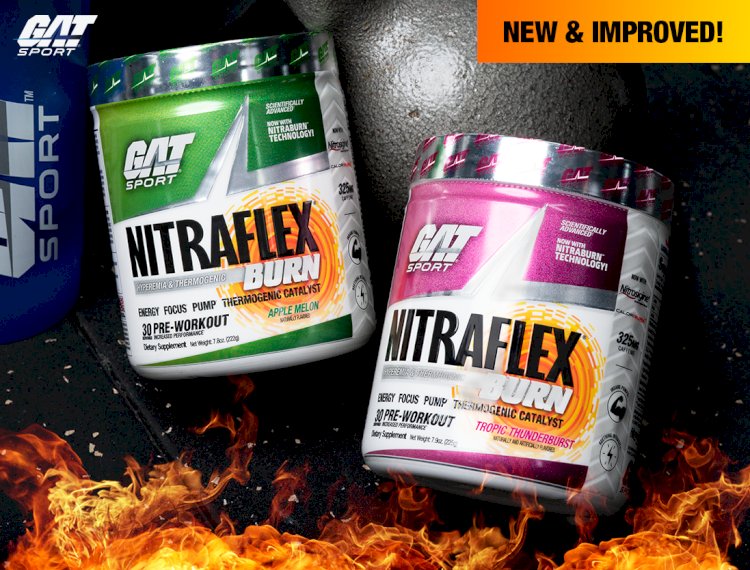 The new and improved NITRAFLEX® BURN is available in four mouth-watering flavors and combines the power of patented ingredients like Nitrosigine® and CaloriBurn GP®.
Utilizing a scientifically advanced formula, NITRAFLEX® BURN can help you drastically alter your physique and get you closer to your health and physique goals. The reformulated NITRAFLEX® BURN with the same mouth-watering flavors, brand new packaging, and an even stronger ingredient profile.
With the matrix of ingredients found in NITRAFLEX® BURN, consumers can expect to see a boost in energy, heightened mental focus, intense muscle pumps, improvements in strength, and high-powered fat-burning capabilities.
The tremendous knockout combination from GAT Sport NITRAFLEX® BURN provides a powerful all-in-one product to help you achieve the best results from your efforts in the gym.
If you want to feel the rush of blood flowing through your veins while turning the heat up and metabolizing fat, look no further than the brand you can trust – GAT Sport.
*NITRAFLEX® BURN is currently available in four delicious flavors (Apple Melon, Spicy Mango-Rita, Tropic Thunderburst, and Blue Raspberry).
About GAT
GAT Sport has been a leader in sports nutrition for over 20 years. Trusted by professional athletes and fitness enthusiasts across the globe, GAT Sport utilizes the highest quality ingredients, backed by science, to set the industry standard across all categories. GAT Sport products are available in over 7,500 brick-and-mortar and online retailers in the United States, as well as being sold in nearly 60 countries worldwide.
Charles Moser, President & CEO, has over 20 years of experience in training and supplementation formulation, design, and marketing. Under Moser's leadership, GAT Sport creates edgy, forward-looking products that propel the industry. Designing with clinically researched ingredients and university studies, he produces and markets clinically tested, efficaciously dosed formulas that become legendary. Charles is diversifying this highly respected global brand with high-energy workout products and those for repair and recovery after training, plus general health and fitness. He drives TeamGAT to compete harder every day and on every level.
For more information about NITRAFLEX BURN® and other GAT Sport products, visit ​https://gatsport.com
What's Your Reaction?