Prime Male vs Hunter Test
In this piece, we take an in-depth look at the merits of Prime Male vs Hunter Test. Prime Male has been one of our favorite products for several years, while Hunter Test is a relatively new addition to SMB's list of best testosterone boosters. Prime Male is aimed explicitly at men over 30, while Hunter Test is intended for "the busy man" looking to "reclaim [his] masculinity" and gain the edge over his rivals. But as the busiest men are (mostly) over 30, it stands to reason these products will appeal largely to a similar audience. That said, there's nothing to stop younger men from using either product – and there's plenty here for men looking to build muscle to enjoy here too. These testosterone boosters are both highly-regarded and share a number of key ingredients – with some notable differences. So in this review, it's our aim to help you decide which one to buy.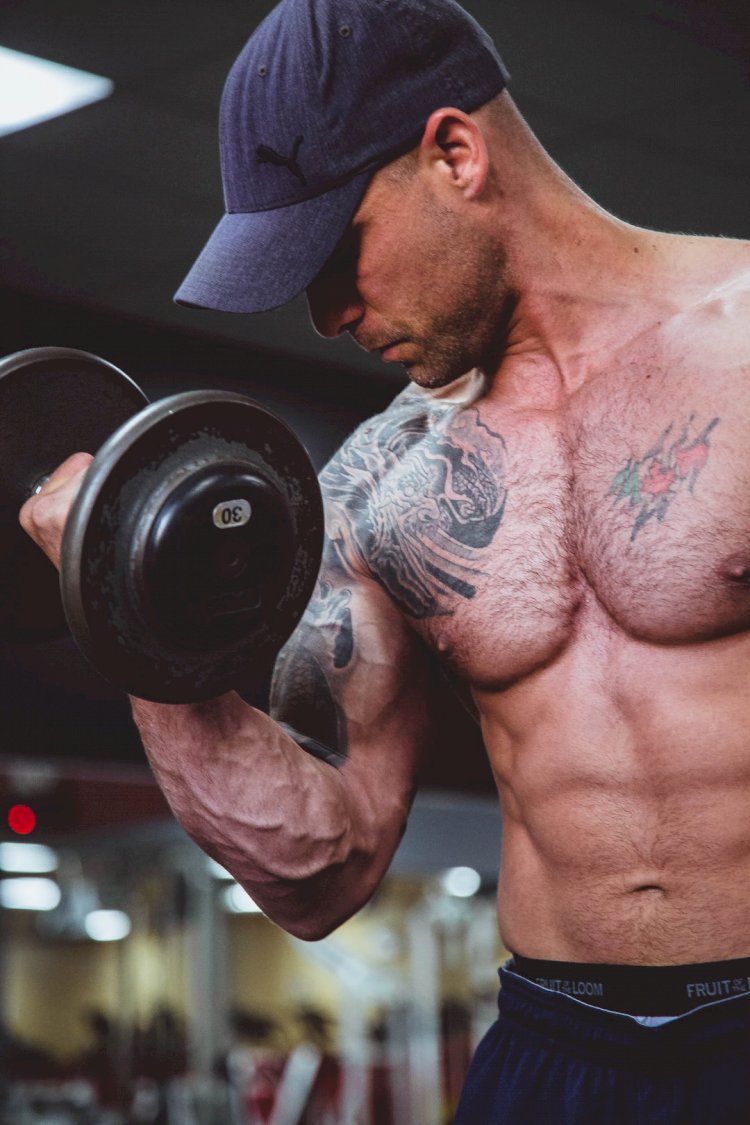 The comparison process
As part of this comparison, we take a look at several different factors as we contrast each testosterone booster. Does each product deliver what its manufacturer promises on its website? Which offers the best bang for your buck? And are any of the ingredients likely to cause side effects?
After you've read this in-depth analysis, you should be in no doubt which of these testosterone boosters is the best.
During the testing process, we compare the different products by looking at:
Brand authority and product
Ingredients and research
Serving sizes
Safety and side effects
Cost and value
For the conclusion, we come up with final scores based on how well Prime Male or Hunter Test fare in each of the categories listed above.
So let's get started…
Brand authority and product
In this part of the article, we compare the brands behind the products. We take a look at everything from each brand's reputation to its existing product range.
While these factors don't necessarily mean a product will be good or bad, the brand's commitment to ingredient research and quality control are useful signposts when navigating the choppy waters of the supplement industry.
Prime Male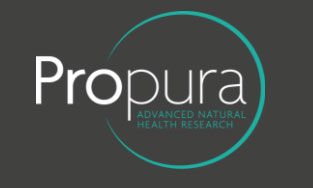 Prime Male is made by Propura – a supplement company based in London, United Kingdom. The testosterone booster is the only product of its kind in the Propura range. In fact, the only other product made by the company is Hourglass – a fat burner for women.
Is it a coincidence that most of our favorite supplements are made by companies with a small product range? Probably not. We usually find that a small product range allows manufacturers to focus more on research and overall quality than bigger companies with huge lines of products across every conceivable category.
According to the product website, Prime Male could help balance hormones and "turn back the clock on male aging". The testosterone booster uses 12 ingredients the website calls the "anti-aging dirty dozen" – which are designed to not just boost testosterone, but also raise your energy levels, increase strength and enhance sex drive.
As a result, it may come as no surprise that Prime Male is the object of thousands of positive reviews online.
Hunter Test

A "premium" testosterone booster, Hunter Test is one of a suite of three supplements made by the Hunter brand. The other products in the range are Hunter Burn (fat burner) and Hunter Focus (nootropic).
Launched in late 2018, Hunter Test is already creating a loud buzz in online forums and on review sites. So while the Hunter brand may not enjoy the pedigree of Propura (Prime Male first hit the market in 2015), the signs are all very promising.
The guys behind Hunter Test say they put all their resources into creating a testosterone booster with the highest-quality ingredients.
The 'proof' behind the promise
The product website also states that Hunter Test is "scientifically formulated" to help you "steal an edge on your rivals".
As part of its promise to offer a more potent formula, Hunter Test also boasts higher doses of important testosterone-boosting nutrients. These include vitamin D3, boron and D-aspartic acid, as well as newer staples like indole-3-carbinol (I3C) and ashwagandha.
In fact, Hunter Test offers the largest serving sizes we've ever seen in a testosterone booster.
Ingredients and research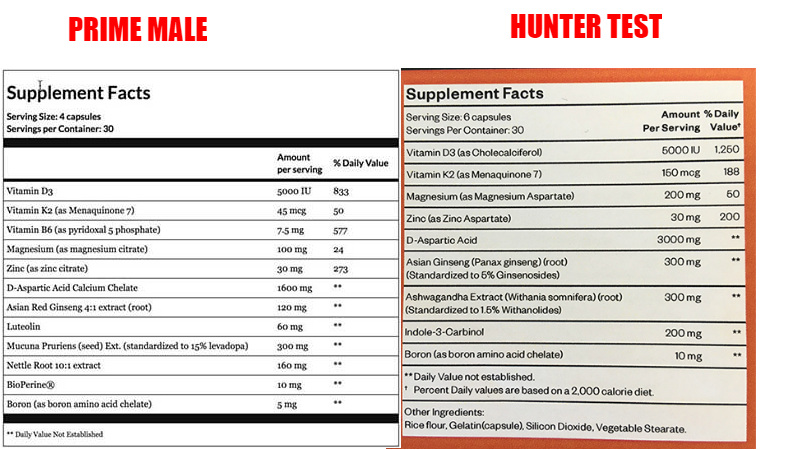 Prime Male and Hunter Test share more than a few key ingredients, with some important differences.
With this in mind, we take a look at the shared ingredients, followed by the unique nutrients in each formula.
When comparing each testosterone booster, we cite clinical studies published in respected scientific journals to help prove or disprove certain claims.
Neither Hunter Test nor Prime Male use proprietary blends, so it's easy to examine these transparent formulas.
Shared ingredients
Vitamin D3
D3 is not really a vitamin at all – it's actually a prohormone [1] which has a strong relationship with testosterone (and all of our sex hormones). For this reason, it comes as no surprise that research suggests vitamin D deficiency may be a major cause of low testosterone in men [2].
By contrast, those who get the most vitamin D in their bodies aren't only likely to enjoy higher levels of the male hormone, but could also boast greater muscle mass, more strength [3] and better moods. Research even suggests D3 supplementation may also make your bones stronger and help reduce your chance of injury [4].
5000 IU is the daily amount recommended by the Vitamin D Council to help the body recover from the symptoms of deficiency in the nutrient [5]. For this reason, we're pleased to see that both Prime Male and Hunter Test contain an optimal amount of vitamin D3.
D-aspartic acid
Also known as D-AA, D-aspartic acid is a non-essential amino acid. And along with vitamin D3, you'll find D-AA in most of the products SMB considers the very best natural testosterone boosters on the market.
Why? Because it has been shown to boost testosterone by 30-60% and sperm counts by up to 100% after just 90 days of use [6].
Whereas Prime Male contains 1600mg of D-aspartic acid, Hunter Test holds an impressive 3000mg – which clearly gives the newer Hunter product the edge here.
Asian ginseng
Also known as Panax ginseng, this ancient herb is shown to increase testosterone and the related dihydrotestosterone (DHT) [7]. It could also decrease muscle damage [8], improve the symptoms of erectile dysfunction and increase sex drive [9].
Asian ginseng is said to be the only true form of ginseng [10]. This is because it contains more ginsenosides (the active testosterone-boosting ingredient) than American ginseng or Siberian ginseng – or any other form, for that matter.
Standard Panax ginseng contains 2-3% ginsenosides [11], but Hunter Test contains a form that is standardized to 5%. It is not clear how much of this active ingredient is in Prime Male – but the lack of any info on the label suggests it doesn't use a superior form of the herb.
Hunter Test also contains more than double the amount of ginseng (300mg vs 120mg) – and it beats Prime Male hands down here.
Boron
At 10mg, this dietary mineral has been shown to boost testosterone by 28% in just one week [12]. In the same study by Naghii et al, boron also reduced estrogen levels by 39%. It is thought to work by helping the body absorb more vitamin D.
According to Examine.com, the lowest active serving of boron is 3mg [13] – which suggests that both Prime Male (5mg) and Hunter Test (10mg) contain enough to have a positive effect on your hormones.
But in the study by Naghii et al, 10mg was the amount of boron shown to be most effective for boosting testosterone. And for this reason, Hunter Test wins here.
Prime Male unique ingredients
Mucuna pruriens (300mg)
Also known as velvet bean, mucuna pruriens grows on trees. It also is a source of L-DOPA, which has been shown to raise testosterone [14].
Research suggests the bean raises testosterone and increases seminal motility in infertile men [15]. However, it is unclear whether it boosts testosterone in fertile or otherwise healthy men.
Nettle root (160mg)
Nettle root is thought to increase testosterone. That said, there is very little scientific evidence that it boosts testosterone.
Hunter Test unique ingredients
Ashwagandha (300mg)
Ashwagandha is an Ayurvedic herb that has been used to increase men's vitality and virility for centuries. In recent years, it has appeared in a number of high-quality testosterone boosters – and with good reason.
A great deal of research shows ashwagandha boosts testosterone – especially in men who undergo strength training [16]. There is also strong evidence that the herb boosts seminal motility and sperm quality [17].
As a potent adaptogen, ashwagandha is also linked to improvements in mood [18], motivation and social functioning.
Indole-3-carbinol (200mg)
Found largely in green vegetables, indole-3-carbinol (I3C) is not touted as a testosterone booster. And that's because it doesn't appear to boost testosterone – not directly, anyway. The compound is recognized more as an estrogen blocker [19], which may help you maintain healthy testosterone levels.
Serving sizes
An initial glance at the different labels suggests that, aside from a few different ingredients, Prime Male and Hunter Test are similar products.
But the serving sizes really set these two testosterone boosters apart. Each bottle of Prime Male holds 120 capsules, which amounts to four capsules per day (over 30 days). While we've seen some testosterone boosters offer servings of two capsules per day, a daily serving of four capsules is standard.
By contrast, each bottle of Hunter Test contains a whopping 180 capsules – that's a serving of 6 capsules per day! This is the largest serving size we've ever seen in a testosterone booster – but there may be method to (what may seem like) the madness…
The guys at Hunter say this gives users high amounts of the right ingredients without forcing the body to digest too much of key ingredients in each single serving.
Don't get us wrong. As we say elsewhere, the four-capsule serving in Prime Male should be enough for most men. But for those who want a more powerful (yet still safe) portion of key testosterone-boosting ingredients, Hunter Test is in a league of its own.
Safety and side effects
It would come as no surprise to us if safety and the possible risk of side effects are among the first things you think about when searching for a testosterone booster.
To learn how Hunter Test and Prime Male compare in terms of safety and side effects, keep reading…
Prime Male
As an all-natural testosterone booster with many well-researched ingredients, Prime Male should be safe to take. With no proprietary blends, the transparent 'supplement facts' give you peace of mind in knowing that none of the ingredients are over-served – and they all fall within the safe range.
In the form of a topical cream, nettle root has been known to cause sweating and stomach upsets, but this has not been shown to be the case when the nutrient is ingested in capsule form.
In one study, 2 out of 10 men experienced headaches when using D-aspartic acid over 90 days [20]. However, there are very few reports of side effects in other studies on the amino acid.
Unless you have specific allergies to any of its ingredients, Prime Male is unlikely to cause any adverse side effects.
Hunter Test
Another all-natural product, Hunter Test should also be safe to take. Like Prime Male, the Hunter brand's flagship testosterone booster doesn't contain any proprietary blends.
And this allows you to see that while it contains higher servings of important testosterone-boosting ingredients, all are measured safely and sensibly.
Some online sources suggest indole-3-carbinol can cause nausea.
However, WebMD reports that servings of 400mg or less are safe for repeated use [21]. Portions over 400mg have been known to cause skin rashes and diarrhea – but as Hunter Test contains half the recommended maximum amount, you shouldn't experience these issues when taking this product.
To further help ensure your safety and comfort, Hunter Test is free from artificial colors, flavors and preservatives, as well as gluten, soy and GMO. While Prime Male is also free from GMO, Hunter Test has to be one of the cleanest testosterone boosters we've ever tested.
Cost and value
Prime Male cost
One bottle: $69/£39
Two bottles : $138/£78 with free US and UK shipping
Three bottles + one free: $207/£117 with free worldwide shipping
Hunter Test
One bottle: $75/£55
Two bottles : $150/£110 with free US and UK shipping
Three bottles + one free: $225/£165 with free US and UK shipping
Hunter Test and Prime Male offer similar deals – in both cases, you get one bottle free when you buy three bottles.
Hunter Test is the more expensive than Prime Male. With this in mind, Prime Male's slightly lower price might make it a more attractive prospect. And as decent testosterone booster, we say it's definitely the money.
That said, Hunter Test arguably offers more than the extra $6 per bottle would suggest. Yes, it's a premium product – but you could get more for your money.
Pros and cons
Prime Male pros:
100% natural – side effects are unlikely
Contains several key testosterone-boosting nutrients
Uses expert- recommended serving of vitamin D3
Mucuna pruriens shown to increase testosterone and seminal motility
Hunter Test pros:
Natural and free from a long list of common allergens – safe to take
Very well-researched formula
Higher-quality ingredients
Optimal servings of D3, boron and other ingredients
Uses a stronger form of Asian ginseng
Prime Male cons:
Uses less-than-optimal serving of boron
Nettle root not as well-researched as other ingredients
Less D-aspartic acid than Hunter Test
Only available direct from primemale.com
Hunter Test cons:
Costs slightly more than Prime Male
Only available from direct from hunterlife.com
Conclusion
These products should offer great results – which is why you'll find them both on our list of
They contain similar ingredients, including must-haves like vitamin D3, D-aspartic acid, Asian ginseng, boron and more.
But in a battle between Prime Male vs Hunter Test, there can only be one winner. In places, Hunter Test uses demonstrably better-quality ingredients, higher doses and larger serving sizes – all of which make it a more potent (yet just as safe, if not safer) testosterone booster.
Brand authority and product: Prime Male
Ingredients and research: Hunter Test
Serving sizes: Hunter Test
Safety and side effects: Hunter Test
Cost and value: Draw
Prime Male score: 2/5
Hunter Test score: 4/5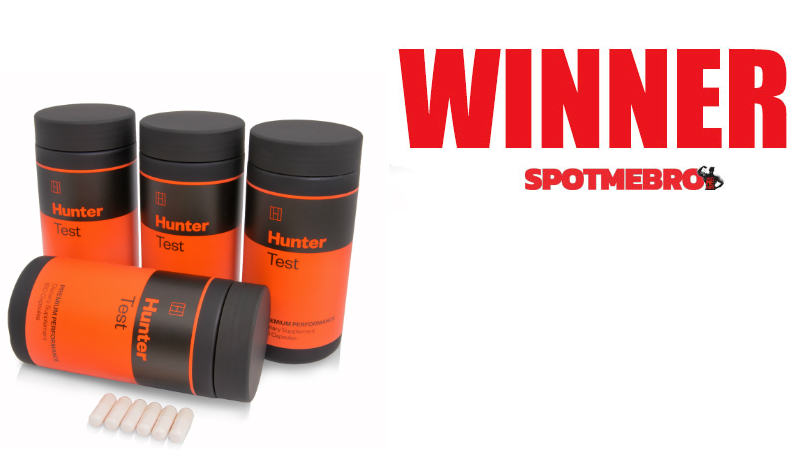 To find out more, or to buy Hunter Test, visit www.hunterlife.com
*Individual results may vary. Please speak with your doctor or physician before undertaking any new weight reduction, supplement, or exercise regime.
Source: spotmebro.com
What's Your Reaction?